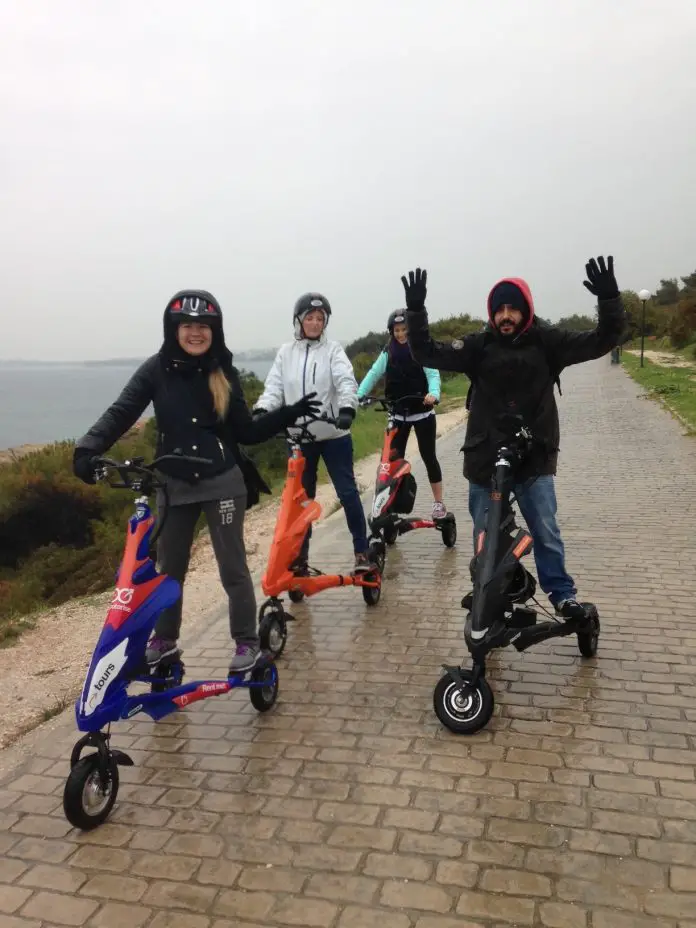 What is Scooterise?
According to their website, Scooterise is:
Fast, safe, and fun. The Trikke provides a unique, personalized way to get around Athens, and lets you set the pace and location of your tour.
I'd already experienced a Segeway tour, so I was intrigued by this new concept – therefore when brothers Nikos and Konstantinos Sarafidis invited me to experience their tour of the Athens Riviera, I jumped at the chance.
I decided to interview them first, to find out more about this intriguing concept: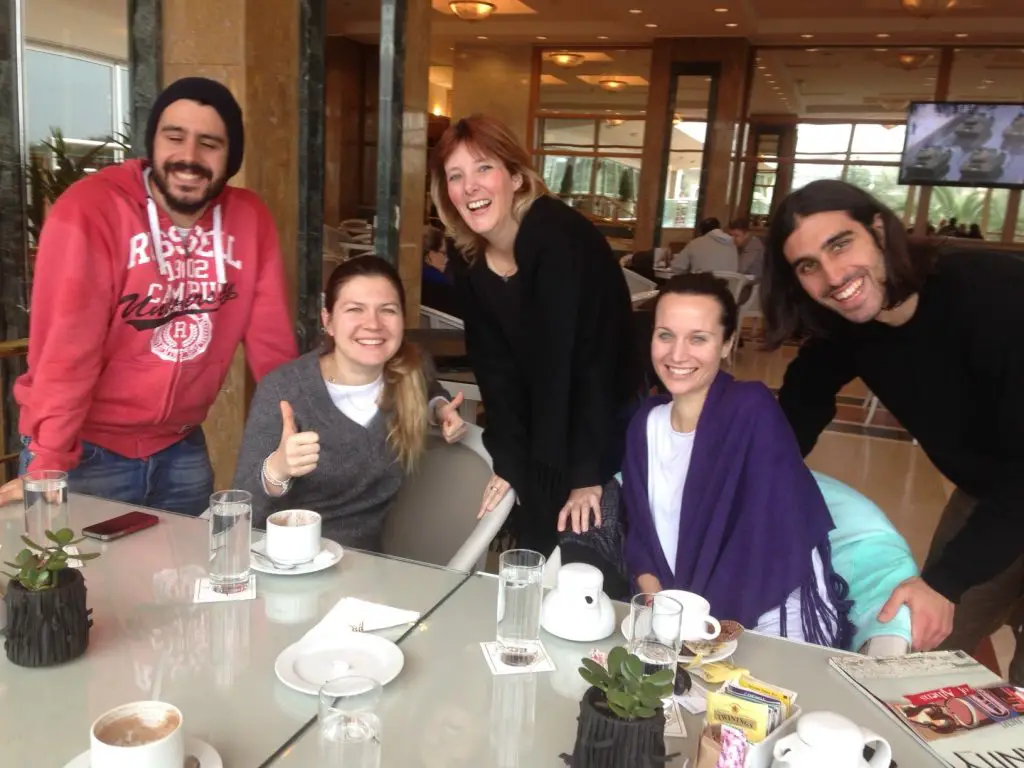 The brothers
Konstantinos Sarafidis
studied Mechanical Engineering at Johns Hopkins University, an Ivy League University in the United States. He obtained a Masters in Finance at Tulane University.  He went on to gain valuable work experience as a Mechanical Engineer in the Design, Quality Control and Sourcing Departments at  TUMI Inc Headquarters in New Jersey and went on to work with Porsche Cars North America Headquarters in Atlanda, GA.
He later decided to follow the entrepreneurial path and founded a company (Scooterise!) with an innovative concept to explore opportunities in the Greek market.  He feels when the time is right, he would like to develop the concept in other locations throughout Europe and the world.
Nikos Sarafidis
Nikos is an entrepreneur focused on innovative ideas. After realizing that the global economic turmoil was shifting the status quo such as obtaining higher education and multiple degrees, the path of entrepreneurship was essential. He studied Economics and graduated from Deree College (Athens, Greece) with a BA in Economics.
He has co-founded two companies; a web company and Scooterise – offering Products and Services based in Sustainable Transportation.
Nikos, why did you decide to bring the Scooterise concept to Athens?
Actually, Kostas was into new tech stuff, vehicles, new processes, technologies, due to his Mechanical Engineering background. So, the concept in the beginning was much more high tech, and was focused to the Greek market. However, we shifted to address the whole incoming tourism idustry by now providing experiential tour services called the Scooterise Experience. The main concept is that we employ different kinds of electric vehicles and create /design themed tours for different kinds of personalities and type of groups;  couples, business related groups, families or even students. Addressing the question "why", the answer is simple: Because we love to provide this kind of service, it is very fun, entertaining, educational and extremely different from any other tour out there. All our tours are private and guided.
What are your job titles and roles?
Kostas Sarafidis:  CEO
Nikos Sarafidis:  Sales Director
We actually have interlapping roles. Businesses nowadays have to be very agile so as the owners, we manage and delegate all work to our colleagues. The main focus of Kostas is Strategy & Operations and Nikos focuses on Sales and Business Development.
What do you hope people can gain from a Scooterise experience. What are you trying to achieve?
We believe Scooterise is a unique and entertaining life experience designed with the creativity, knowledge and vision to makes our tours unforgettable. We are trying to achieve a higher standard of what we call "Tour Service" on a worldwide basis. And to put the Greek benchmark out there!
Scooterise is more than just a 'fun way to see the city.' Tell us about your bigger plans for the future, and how you see it fitting into the environment?
We wish to expand the Scooterise concept in the Greek islands and in Mediterranean countries. We then can say we have achieved "exporting" a Greek touristic concept outside our country. This will be a big accomplishment and reward for our continuous efforts. (I also seem to remember discussing with these extremely affable individuals the possibility of airport staff utilising Scooterise trikke's!)
So what's the Scooterise experience like?  Kostas and Nikos met my Travel Bloggers Greece colleague Elena Sergeeva of Passion for Greece for a fun day. Alas, unusually for Greece, it rained the whole time!  But as the Scooterise motto goes:
Nothing can stop us!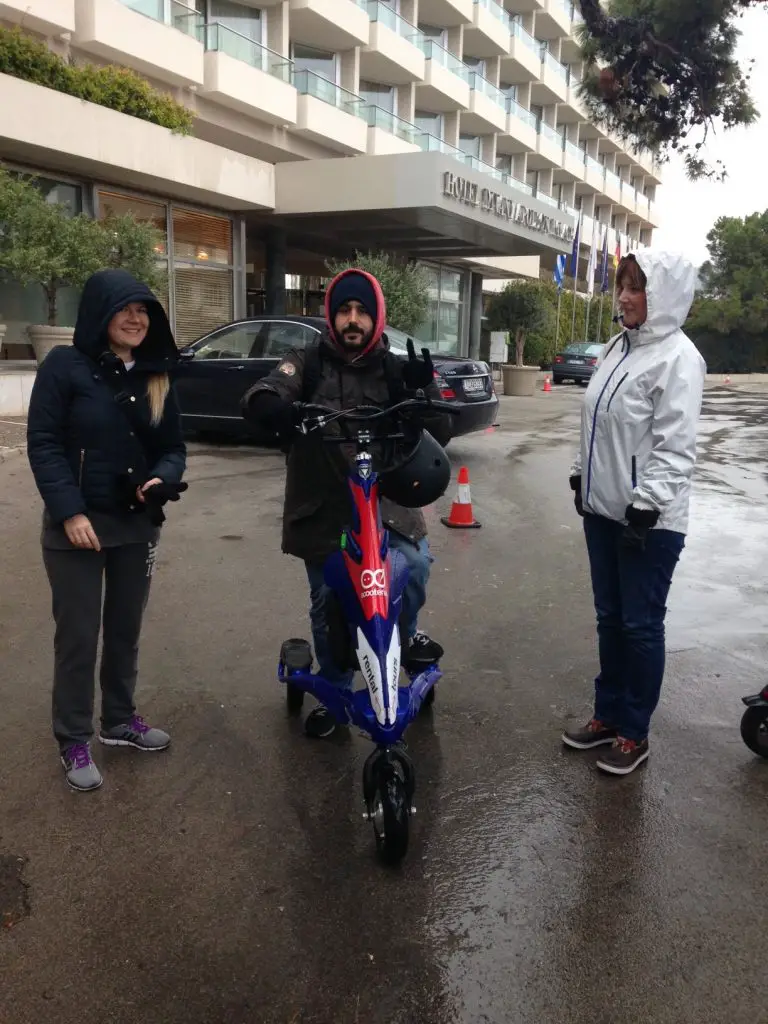 Learning how to use the trikke took a matter of minutes.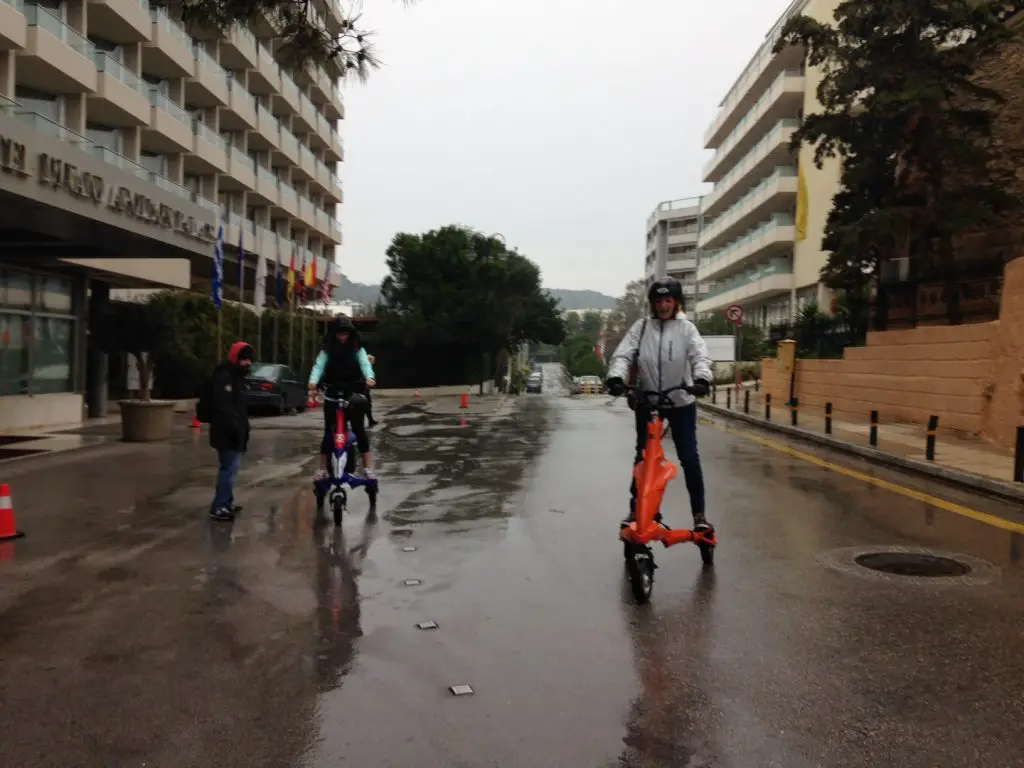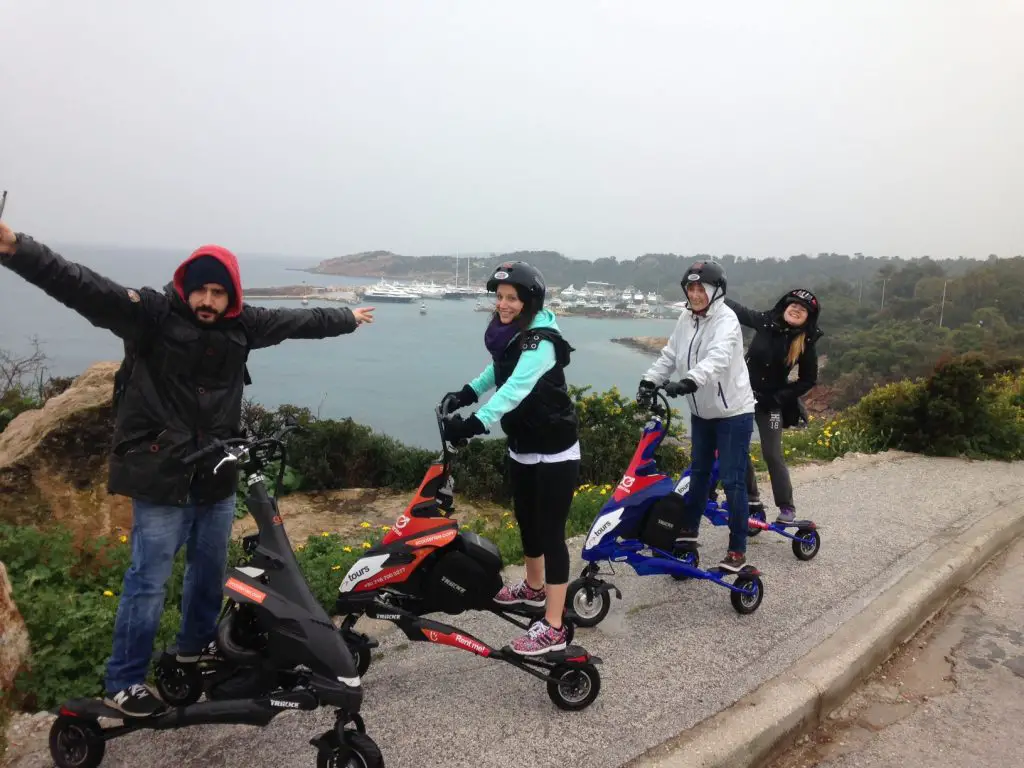 And we're off!  Through the rain, nothing can stop us.
The Scooterise Athens Riviera Tour takes one along the south coast of Athens and on a sunny day, you can stop at Lake Vouliagmeni for a dip in the reputed healing waters.
Priced at 98 Euros, the price includes:
An Electric Trikke vehicle • Helmet • Bottled water• Safety instructions and brief orientation at the beginning • Photos and Action Camera live video footage taken on tour are sent for free electronically • Third party liability insurance • Light Lunch or Drink, Transportation cost included.
**A special thanks to Scooterise for hosting us. Passion for Greece and I were guests of Scooterise and look forward to another trip – hopefully the Scooterise Athens Food Safari, and with better weather! As always, all thoughts and opinions remain my own, despite any complimentary services received.**