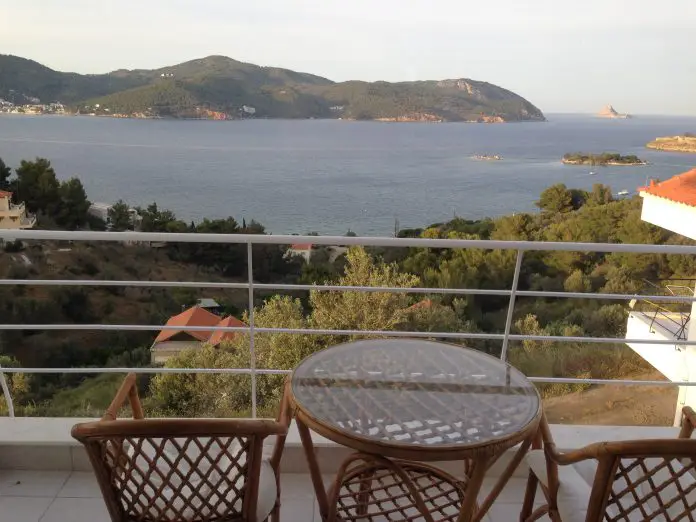 **Note: Despite any complimentary services received, all thoughts and opinions remain my own**
---
Through friends of friends of friends (as is the way in Greece), I came to hear about Live-Bio and was put in touch with Periklis and Magdalena, a young couple with a dream and vision to make their dream a reality: to create not just a place to stay surrounded by beauty and nature, but;
a small community hub for visitors and the local population
The couple have a beautiful property they have converted into 50 square meter apartments with the piece de resistance being the views from your balcony.  Take a look here to read more about why this young couple decided to drop professional life in order to harness their love of nature, local produce and people-centred experiences.
Imagine my delight when they offered me the chance to come and experience Live-Bio for myself, which I did over Greek Easter 2016.
Location of Live-Bio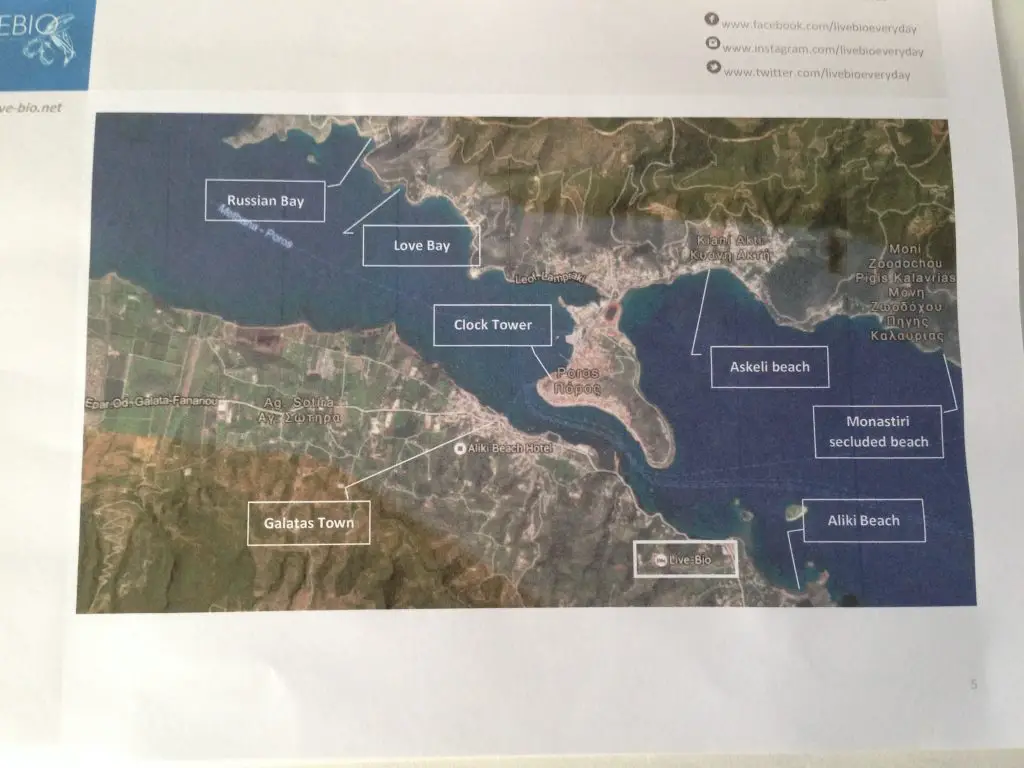 Live-Bio is actually in the Peloponnese region of Greece, but the best way to reach there is to take a ferry to the island of Poros (about 1.5 – 2 hrs away by ferry from Piraeus).  I like taking the 'slow' ferry.  It takes roughly 2 hours but I like being able to walk around on deck and not be cooped up inside a big 'flying sea cat' that yes, granted takes you to your destination quicker – but to me, being at sea and enjoying the views is all part of the enjoyment. Greek ferry timetable here.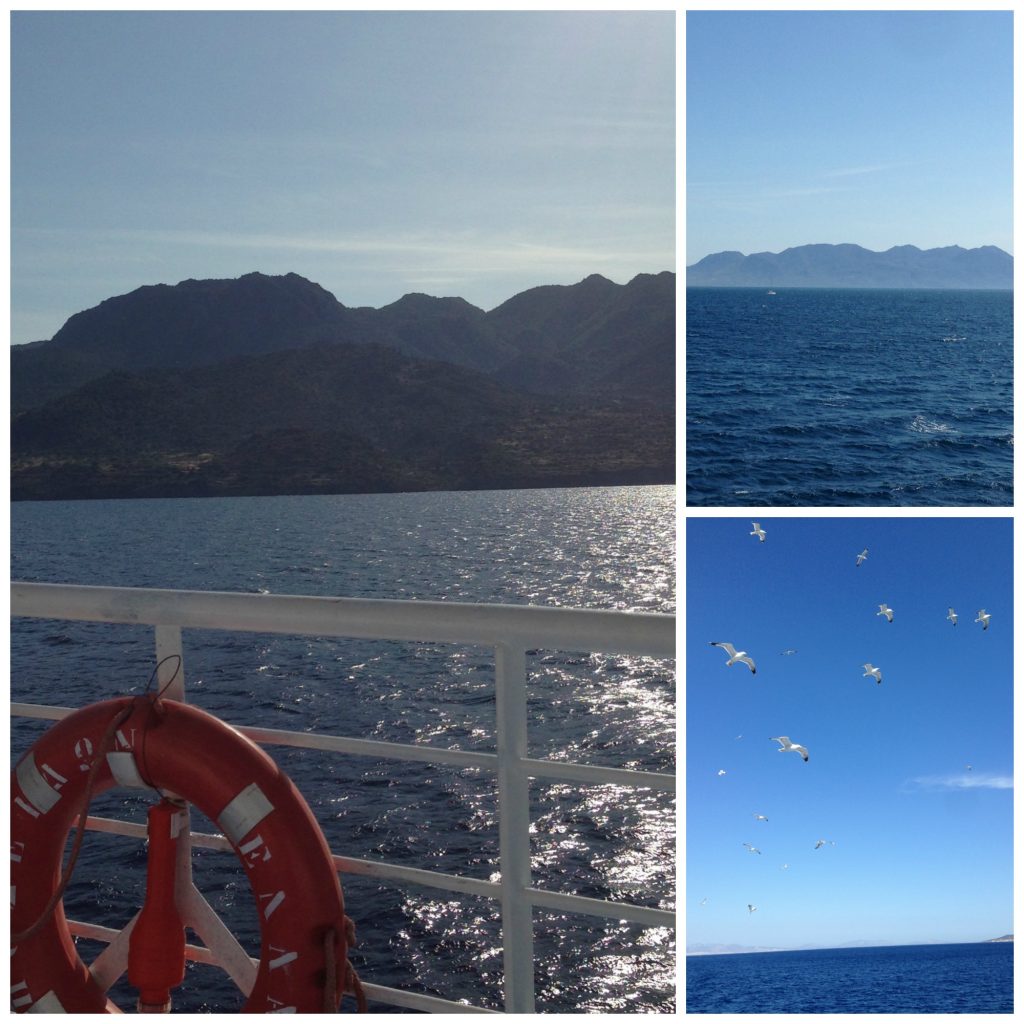 Once you reach Poros and disembark, you go to the small ticket booth of the 'roll-on/off' ferry that, for €0.70c (for a foot passenger) takes you on a 5 min journey back across the water to the small Peloponnese town of Galatas, where Magda or Periklis will come and meet you to whisk to away to their property in the hills, above Galatas and with sweeping vistas from your balcony back towards Poros, Poros Town (the capital) and the sea beyond.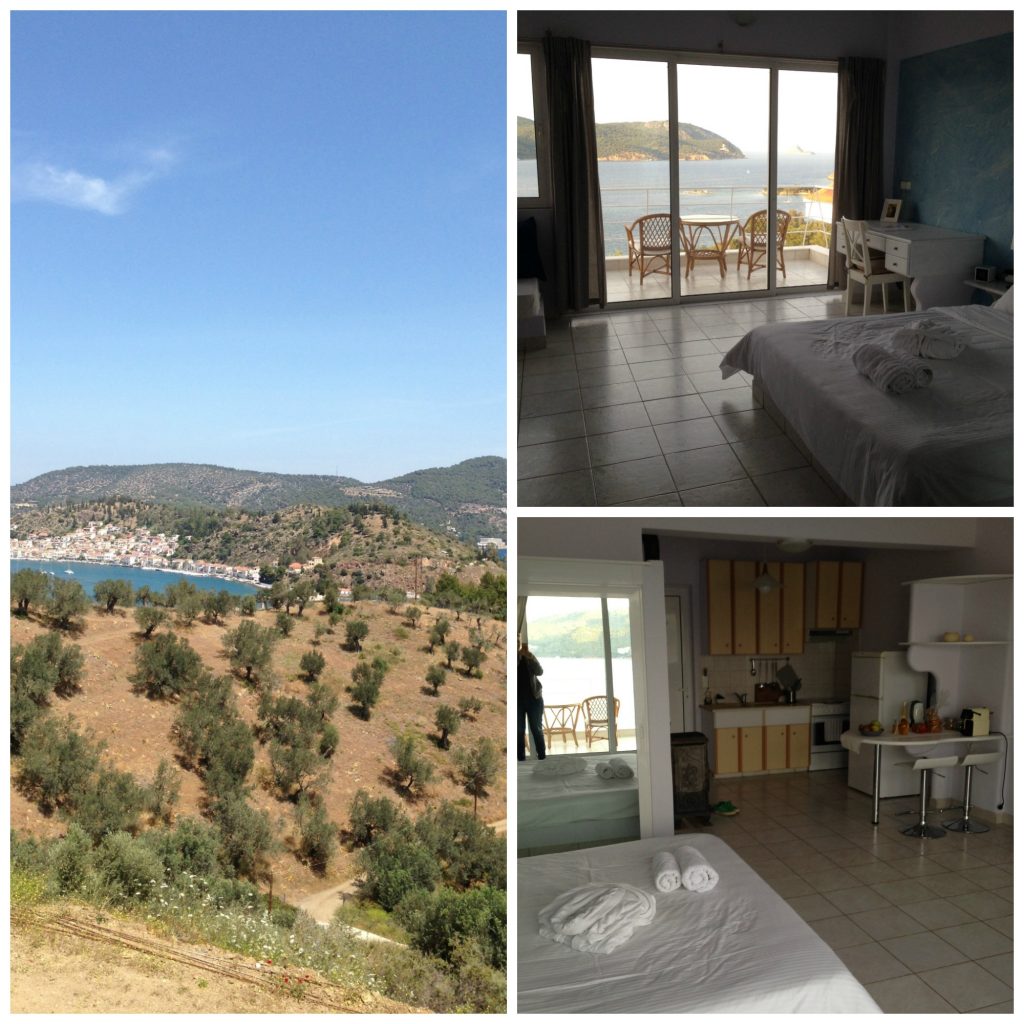 What to do at Live-Bio
As mentioned previously, Magda and Periklis are keen to help you make the most of your stay.  However, they also know not to be pushy and intrude upon your private time, so they are there as a constant backdrop, on-hand with advise, even willing to join and take you places if needs be.  In your room you'll find a brief guide to the area and suggested things to do such as sailing trips, day trips to Poros and the local Peloponnese spa town of Methana (not very well marketed or advertised, hence not to popular with tourists outside of Greece making it a perfect place to explore) – all with a suggestion by Magda and Periklis as to why they recommend going.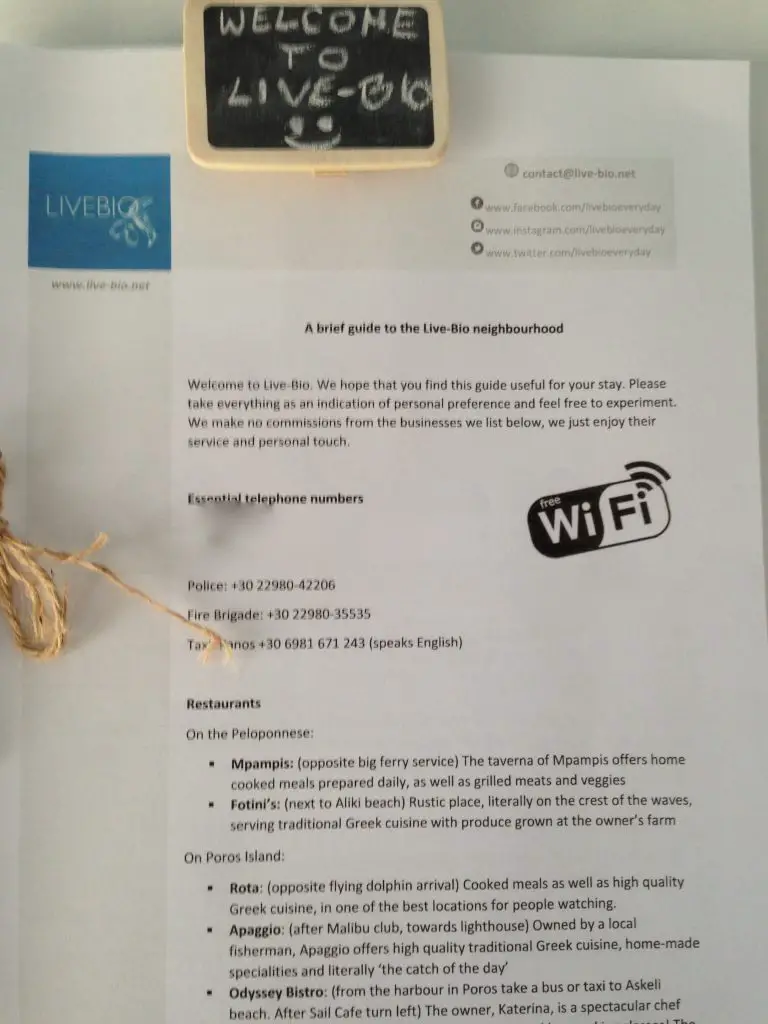 My Live-Bio experience
As mentioned previously, I was offered the opportunity to experience Greek Easter at Live-Bio.  Easter in Greece is the biggest celebration of the year, bigger than Christmas.  I arrived on the Thursday before Good Friday and was met my Magda from the roll on/off ferry.  A short drive through Galatas and up through the olive groves lead me to Live-Bio.
As I was guests of Periklis and Magda over the weekend, I had a deliciously simple dinner with them, catching up on their news and agreeing we'd take it easy over the weekend.  There were other guests staying who were also keen to experience Greek Easter.
Good Friday dawned and Magda and I took a slow wander through the olive groves behind their property to Galatas Town for the ubiquitous Greek coffee and pastry that can take up to three or four hours to consume.

The procession on Good Friday evening is important as the 'body of Christ' leaves from the local church and many of the villagers all meet at the church and wander through town holding candles, all congregating at a central point.
Afterwards, our group gathered in a taverna to eat calamari, octopus and vegetarian dishes (no meat until midnight on Easter Saturday, as Greek Easter tradition dictates) and we fell into bed at about 2:30am
Saturday was a relaxing day – I decided to head on over to Poros and take a look around.  Magda and I drove into Galatas Town, parked up and took at water taxi (7 mins) for €1.00 across to Poros and then a taxi up to the Monastery.  What a relaxing place to sit, soak up the spring sunshine and drink a coffee.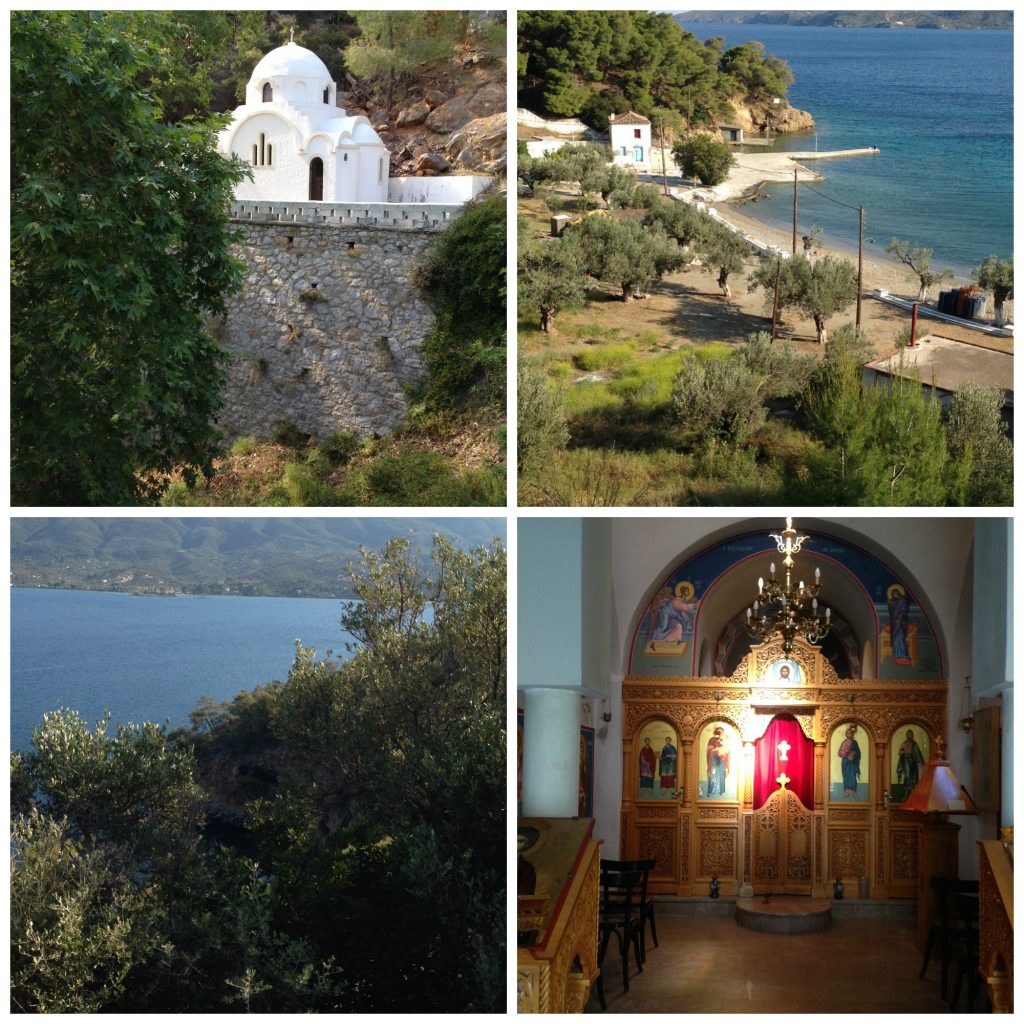 Easter Sunday at Live-Bio
All the guests staying at Live-Bio had been invited, in true Greek style, to share Easter Sunday with friends of Periklis and Magda's on their farm in Galatas.  As you can see, the food was plentiful as was the music, wine, celebrations and dancing.

Facts about Live-Bio
Take the ferry to Poros from Piraeus, then ferry from Poros to Galatas.
If you take a fast Dolphin ferry to Poros, you'll take a water taxi to Galatas (located right next to where the Dolphin's disembark – cost: €1.00 for the water taxi)
Alternatively, you can take the bus from Athens or drive to Galatas (remember, it's on the mainland in the Peloponnese) and it takes roughly 2.5 hours (about the same as the slow ferry ride to Poros).
If you take the slow ferry to Poros, you'll take the slower roll on/off ferry to Galatas (€0.70)
Live-Bio are a set of 50 sqm apartments located on the hill just outside of Galatas.  They come with open plan kitchen/living and bedroom and bathroom.
Each apartment can comfortably accommodate 2 adults and 2 kids
Car hire is available in Galatas starting at approx. €35 a day (small car)
On request, Live-Bio can provide breakfast (at extra cost).  Anything from €8 to €15, depending on what you require.  They can provide fresh fruits, yogurt, pastries from the local bakery/coffee shop (which delivers), fresh orange juice and coffee/tea.  The higher price range for breakfast could also include an egg dish such as an omelette or scrambled egg with feta cheese – depending on what you fancy.
Would I return?  I feel there's so much more in the area I'd like to see, so next time I'd like to take advantage of the car hire options in Galatas and explore the region more.  What, for me, was perfect about Live-Bio was the fact that it's in a pretty non-touristy region of Greece – with the option of visiting slightly more touristy Poros – just a stone's throw away – if I wanted to.  Galatas is a local Greek village where every day Greek life can be observed.  The location of Live-Bio, for me, was perfect, and who can forget those views!