As most of you know by now, I was looking after a small cat named Linguine.
You will also know that I live in
Athens
,
Greece
and if any of you are familiar with
Greece
, there are many cats running around that are not well looked after.
So how did I end up looking after a Greek cat called Linguine?
Well, being a cat lover, I wanted to find a charity similar to the RSPCA or Cat's Protection (in the
UK
) that would allow me to take in and re-home a cat.
Ha!
This is
Greece
!
No such thing as animal charities here – or so I thought…
After an exhaustive search on Google, I eventually came across "Nine Lives Greece."
The rest is history and I managed to get Linguine – but I was intrigued to find out more about this wonderful organisation and the work it does. So I popped along to visit Cordelia Madden-Kanellopoulou, one of the society's founders, for a cup of coffee and to have a chat.
So!

 

Nine Lives – how long has it been running?
(Cordelia, in perfect Greek, orders herself a 'tsai' (tea).
She's English, I should add).
Well, we became an official charity in 2006, but all of us who became founding members were helping stray cats unofficially in
Athens
for about 10 years before that.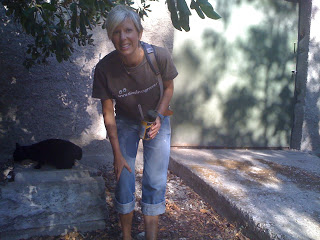 Feeding in Parliament Gardens, Central Athens

Yes, feeding and neutering stray colonies of cats in central
Athens
, for example in
Zappio
Gardens
(the gardens near Parliament).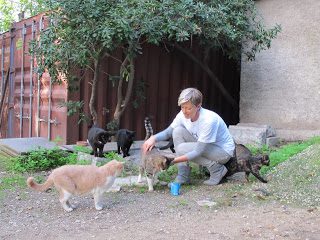 More feeding

And what exactly does Nine Lives do?
We focus on the capture, neuter and release of stray cats, to humanely reduce the stray cat population. We also feed several large colonies of cats in Athens on a daily basis and we try to find loving, responsible homes for as many cats and kittens as possible, either in Greece or abroad.
Yes, we do have friends and family abroad who are aware of our cause and, even with the vast numbers of animal charities in their own countries, are sympathetic to the plight of stray animals in
Greece
and are willing to pay the necessary costs to bring a cat over. Several of 'our' cats have been adopted abroad, and we keep in touch with them, receiving photos and updates about their happy new life.
And what motivated you to set up Nine Lives?
(sipping on previously mentioned tsai and thinking): Well, there was no single charity in
Athens
focusing on the neutering and release of stray cats. There were and are charities that care for stray dogs, and the Athens municipality runs a catch-neuter-release programme for dogs (municipalities are by law responsible for strays and required to carry out catch-neuter-release, but only a handful of them actually implement the law) but for cats, there was nothing.
Some of you readers might not be aware that in Greece, the number of stray cats is PHENOMENAL!

 

Many Greeks do not agree with neutering their pets, they view this as cruel.

 

Cordelia discussed this a little:
Sadly there are people who believe that it is crueler to neuter than to leave their cat on the street when they become bored of it as a pet, or to leave its kittens in the dustbin, or to place poison around to get rid of unwanted cats. Thankfully, this is starting to change, very slowly – at least in
Athens
the occurrences of deliberate poisonings of animals are becoming rarer – but it is still hard to convince many people that neutering means healthier, happier, longer-lived pets and controls the spiralling overpopulation of strays.
Even the WHO (the World Health Organisation) maintains that neutering is the only humane and effective way to control the stray animal population.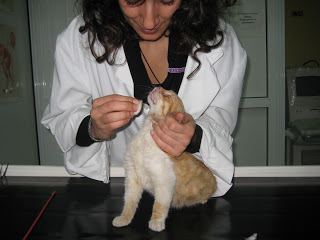 Vet examining a newly found stray

So it must take up a lot of your free time then (for this is not Cordelia's main job)?
(laughs)
It takes up ALL of my free time!
Animals don't have a 9-5 schedule. I'll give you an example run-down of my day:
9am:
Check Nine Lives emails. There's one from the son of an old lady who has about 20 cats in her home, but has recently had a stroke so will remain in hospital and the cats all need to be relocated. I spent some time trying to work out how on earth we – as a tiny volunteer group with no facilities – can deal with this, probably through splitting up the cats among various animal welfare societies here so that we all try to re-home 4-5 each.
10.30am:
Went to trap 2 cats for neutering in Kolonaki area of
Athens
. They are the final 2 that we hadn't yet managed to catch and neuter from a colony of around 8 cats looked after by an Austrian lady. Arranged with the pet taxi to collect them on Monday. I then went to the vet to collect 4 newly neutered cats for release: 2 into the Plaka area and 2 to Koukaki
11am:
Received a phone call from a newly set up animal welfare group asking for advice on how to trap cats.
Also received a call from a girl asking advice on neutering two young cats that she feeds in a small park in her neighbourhood.
11.30am:
Called another vet who we work with to discuss the re-homing of a kitten that we picked up last week from Plaka. This kitten's brother had been badly mauled by a dog (and will be at the vet for the foreseeable future) and his sister had disappeared, so he needed to be taken in. Luckily, a good friend of mine has offered to foster him until we can find him a home.
12am:
Spoke to a friend to discuss the progress of a cat that we had caught together two evenings ago in Kolonaki. This poor cat, who was an absolute darling who purred and rubbed my hand while he was being examined by the vet, had been very badly injured after being hit by a car.
And all this before Cordelia met me for coffee and before her day's even properly begun!
What are your hopes for Nine Lives in 2011?
More volunteers, more volunteers, more volunteers!!
We need more:
feeders (Nine Lives feeds over 200 stray cats a DAY in central Athens)
fosterers (people to temporarily provide a home to cats awaiting permanent homes)
drivers (people to take/collect cats from the vets, deliver to foster/permanent homes, etc)
people who can help with fundraising activities and PR
more people willing to re-home
I would like to believe that 2011 is the year Greece finally implements existing laws against the abuse of animals, eg: fines and prison sentences for abusers, poisoners and abandoners, and I would like to see a total ban on the sale of ALL animals in pet shops (in Greece puppies and kittens are widely sold, no questions asked, at pet shops, as are exotic animals and reptiles, birds, rabbits, mice, fish etc etc).
Cordelia, you truly are an inspiration to the rest of us.

 
(laughs self-depreciatingly)
You know that Linguine is now gone that I am ready for another cat?
Yes! (beams Cordelia).
We have two in mind for you – quite young, they can play with each other to keep themselves out of mischief.
I
can't wait!

 

Next week will reveal all – watch this space!
And finally, for those of you interested in cat adoption, here are a couple of 'case studies' looking for homes: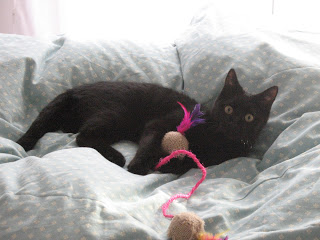 Vasilakis

Vasilakis is a very affectionate 5-month-old male kitten who loves to share your pillow and cuddle in your arms. As he's just a baby, he is also very playful and inquisitive. He was abandoned in central Athens as a tiny kitten and was badly kicked by someone, as when we found him he had a displaced and shattered hip bone. After one month at the vet, he is now almost 100% well again, but he has a slight limp so he needs to live indoors. Could you offer this little love bug a caring and responsible home? Please email [email protected]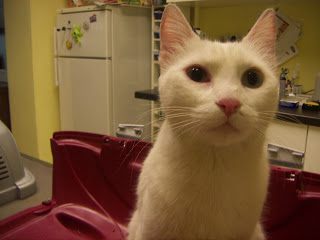 Aliki
Aliki:
Beautiful pure-white Aliki was found by a Nine Lives volunteer one evening on the streets of northern Athens. She was very friendly, but frightened of the traffic, dogs and boys playing football. We believe that she was recently abandoned by her owners. She has now been in a foster home for about five months. She is very affectionate and loves being stroked and cuddled, but intensely dislikes other cats and therefore needs a home where she is the only cat.
She is around 1 year old and has been spayed.
For more information, visit: http://www.ninelivesgreece.com/