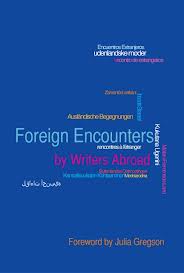 I am very excited to share the following Press Release with you: One of my pieces of writing was selected to contribute to Foreign Encounters.
Online writing group Writers Abroad are proud to announce the publication on Wednesday 24th October 2012 of their new anthology, entitled Foreign Encounters.
---

An encounter can be a chance meeting, a planned get-together or even a confrontation.
This collection of stories, non-fiction articles and poems features a variety of foreign encounters: with family, friends, lovers, animals, cultures, or just with one's own prejudices and preconceptions.
Foreign Encounters is the third anthology published by Writers Abroad, an online group of ex-pat writers.  All the contributors are, or have been, ex-pats living in places around the globe. Contributors live in, and have written about, more than 50 countries in every continent.
Author Julia Gregson, a former ex-pat whose bestselling novel East of the Sun won the Prince Maurice Prize for romantic fiction, has written the foreword.
For more about author Julia Gregson, see her site.
Following a call for submissions, Writers Abroad received 231 contributions of which they selected 95 for the anthology.
They include 16 poems, 38 short stories and 41 non-fiction articles (in which Bex's story was one of them!)  Since Writers Abroad is a virtual writers' group, all the work to produce Foreign Encounters has been done online.
All proceeds from the sale of this book will go to Books Abroad, a charity which coordinates the donation of free books for schools throughout the world,
believing that education is a crucial aspect of human progress. The charity celebrates its 30thanniversary this year and has supplied over 1,600 schools with desperately-needed books.
For more about Books Abroad, see their site.
Foreign Encounters is available from Lulu  or from Amazon.com here:
To find out more and for a complete list of contributions and authors, please go to the Writers Abroad website .
---
Note:
Writers Abroad was founded in 2009. It provides an online forum for ex-pat writers to exchange ideas, views and news on writing and to offer support and constructive feedback on each other's work. Membership numbers are limited but ex-pat writers may apply to join if they are able to support the group's initiatives and aims. http://www.writersabroad.com/.
I feel very proud to have been one of the authors selected to represent Foreign Encounters and hope you'll purchase their book.  I know that you'll agree it's to a good cause.