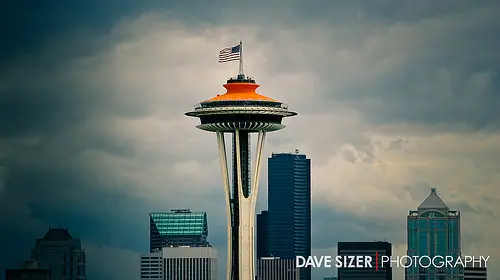 I was so fortunate in the summer of 2015 to be able to spend most of it in the Pacific Northwest of the U.S, Seattle and the San Juan Islands to be exact.  Do go to the relevant place on my site to read various posts about my experiences and adventures there. As an English girl in America, I thought it'd be interesting to share my observations about what I consider to be some of the pros and cons of American culture.
Bear in mind I was a tourist for about 5 weeks, so I am aware this gave me only a fleeting glimpse into life in this region and is not necessarily representative of the rest of the States, and that this is a purely subjective post.  Take it with a pinch of salt.
English girl in America – Pros
1) The 'How are you?" culture
It seems wherever you go, people are asking you how you are; the local coffee shop, the neighbour you pass on the street (yes, it appears people actually speak to their neighbours in Seattle), in fact – just about anyone…even the Immigration official at the airport (although I did wonder how genuine he was).
People always smile when they say it, and some occasionally reach out and squeeze your arm.  Coming from a culture that is also very tactile (Greek), this pleased me.
2) The public transport, and how it helps those in wheelchairs and the elderly
Many Seattleites looked at me in amazement when I told them I found their public transport to be remarkably cheap – $2.50 per bus journey, irrespective of length of time.  You can either pay (with exact money) on the bus, or buy an Orcas card (like an Oyster in London or Octopus in Hong Kong) and top it up with money. As an English girl in America, this please me.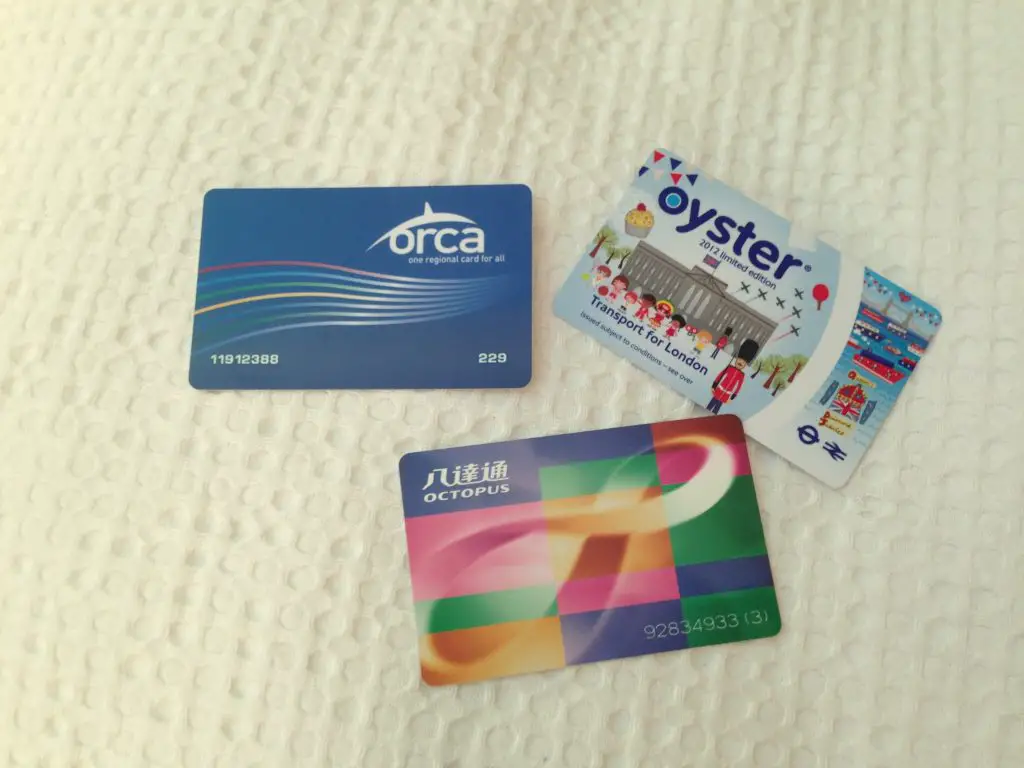 I witnessed several times different bus drivers lowering the bus for a wheelchair to board, and then to actually help the wheelchair user to strap themselves into the designated spot.  I can honestly say I have never seen a London bus driver do this.  I also loved how willing the bus driver is to tell you if you're on the correct bus and shout out the stop for you. Again, London bus drivers certainly do NOT do this (in my experience).  I was once told to download the Transport for London app on my phone in order to obtain information.
But I don't have internet on my phone
I told the driver (I didn't at the time and before you all think I am a moron, I do now – grudgingly I have given in). He looked at me like I was a moron and refused to help me.  A fellow passenger did.  So yes, as an English girl in America it was refreshing for me to experience bus drivers who actually helped, both verbally (me with directions) and physically (people in wheelchairs, with push buggies, etc).  And smiled when they did it!
3) The beauty of the Pacific Northwest
Ok, now we move onto aesthetics.  I live in Greece and have argued that on islands such as Santorini (in fact, most of the Greek Islands), we have the best sunsets in the world. As an English girl in America, I now have to revise that after having visited the Pacific North West.  Yes Seattleites, you are right – you do have (some) of the best sunsets too.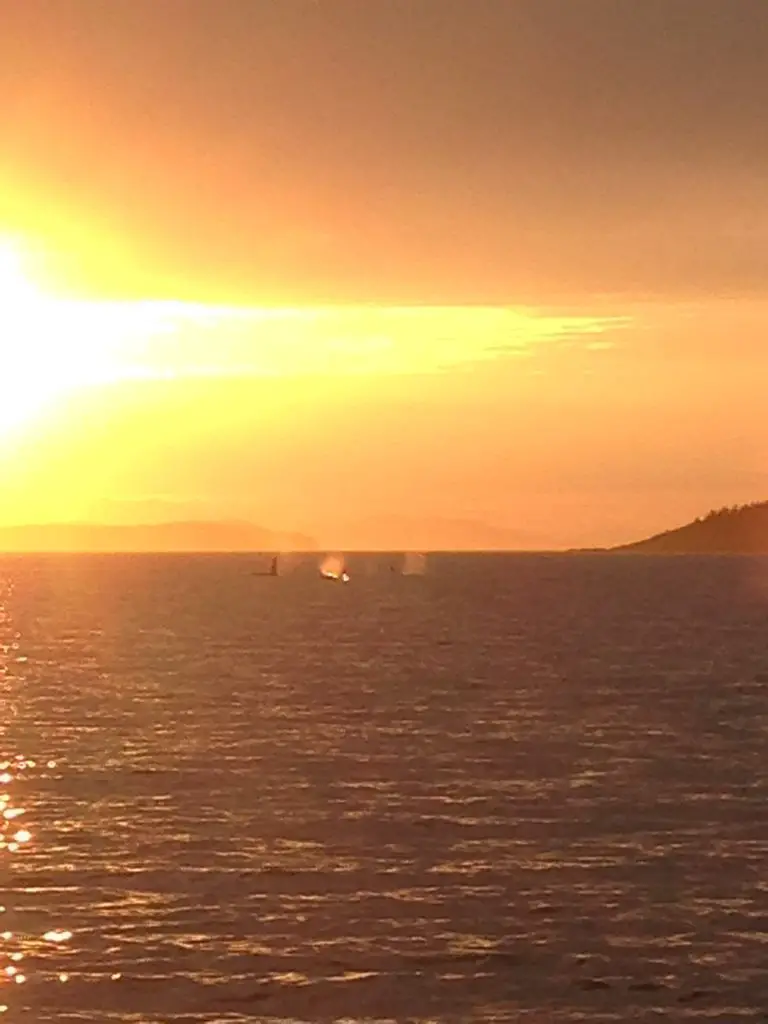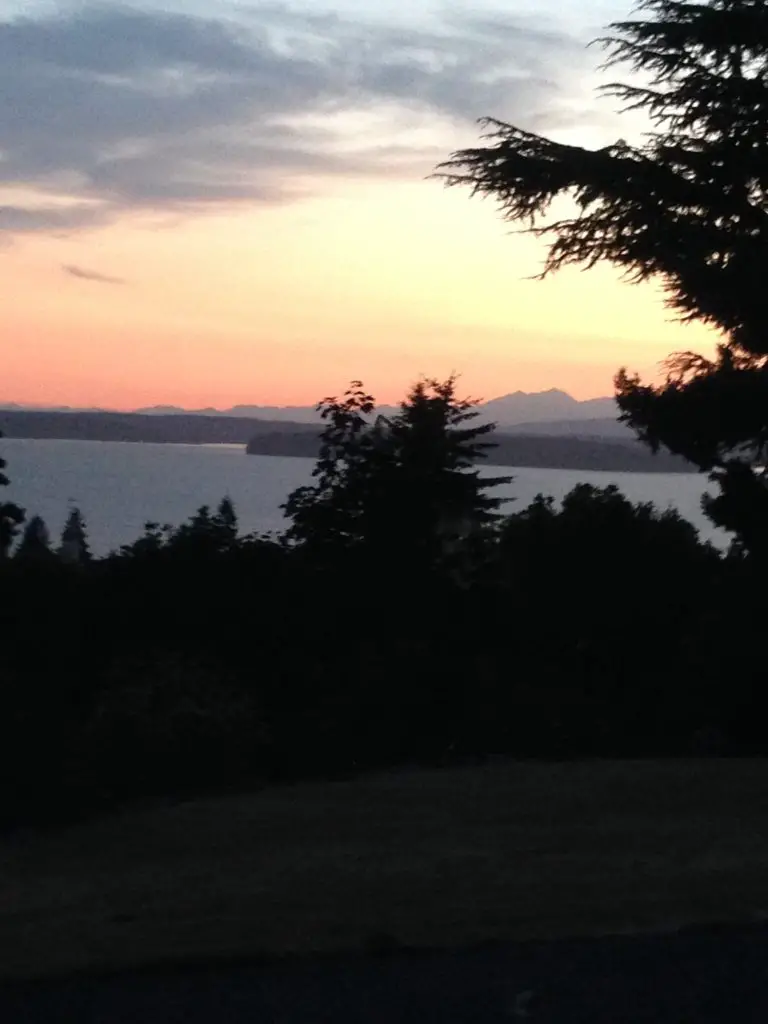 Parks
Oh the parks in Seattle! Magnificent, tree lined – and all by the coast, even inner city ones have views out to the coast.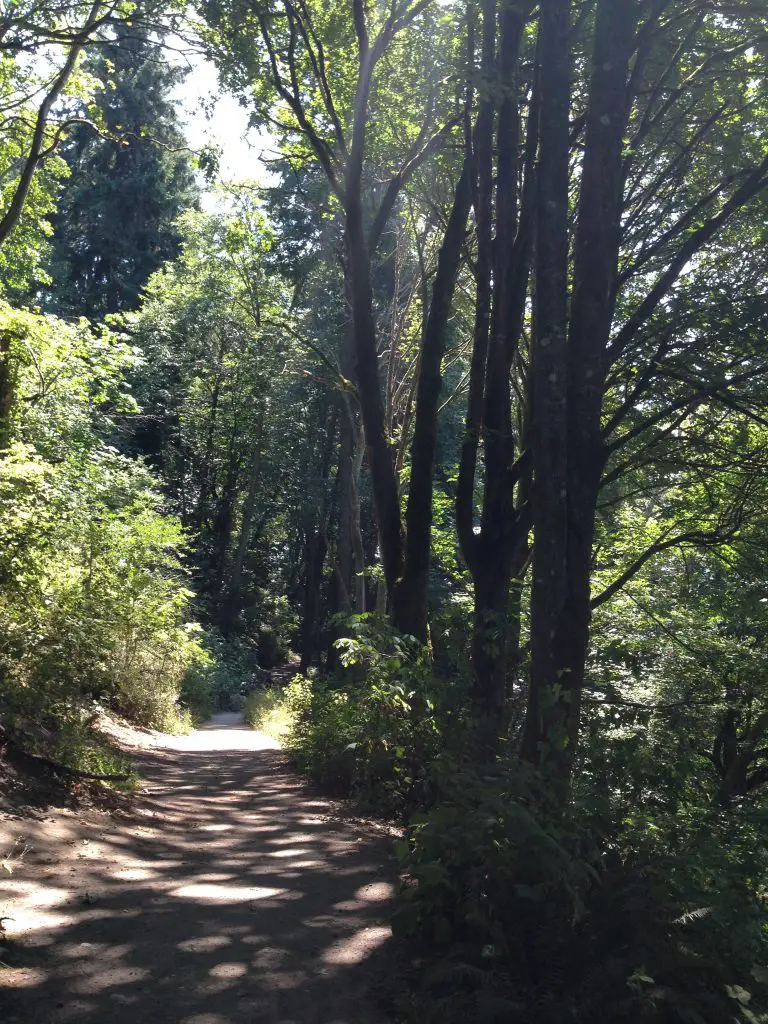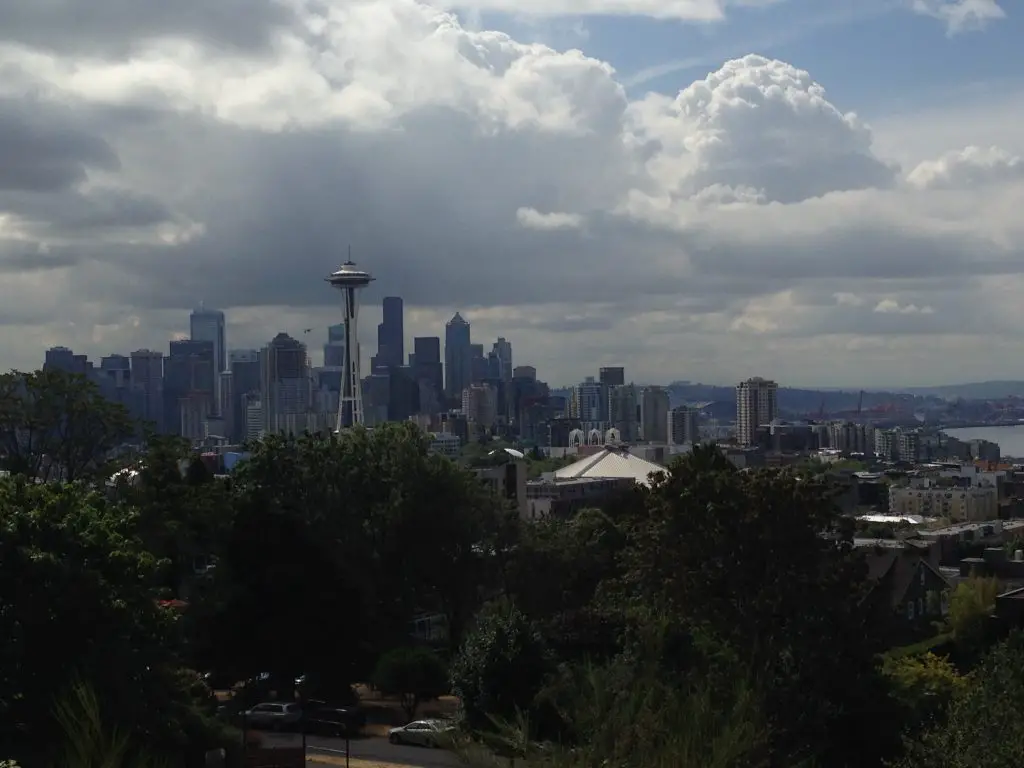 And who can dispute that Mount Rainier – that sleeping volcano overlooking Seattle from a distance – isn't a magnificent beauty?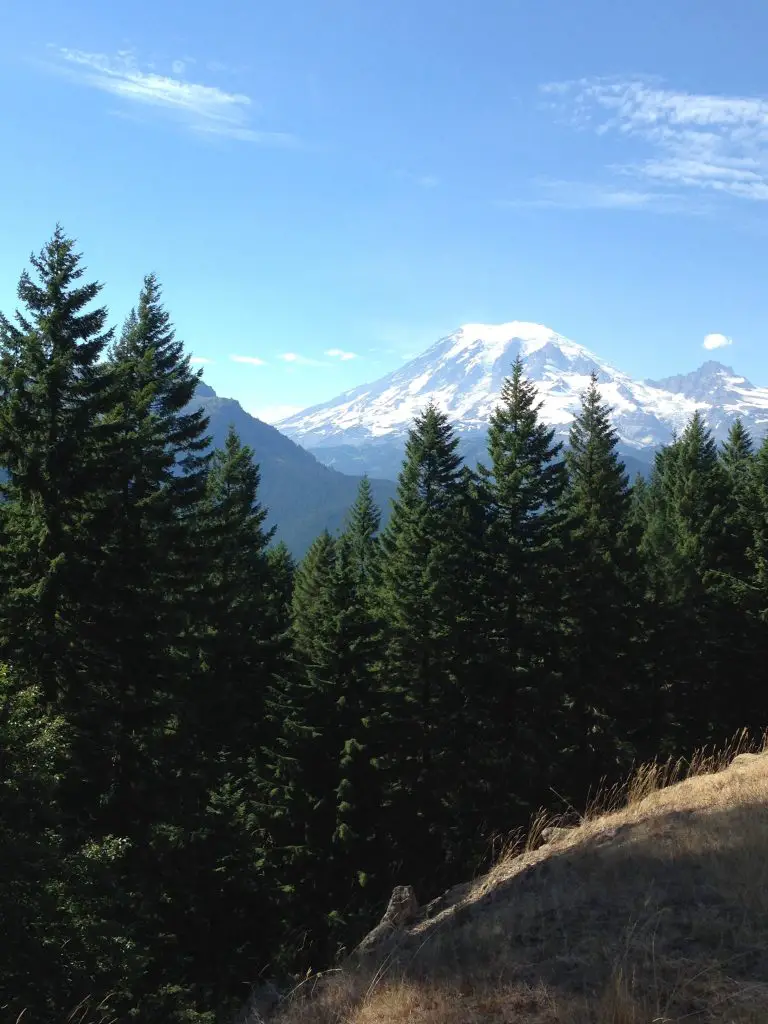 4) Libraries
You may look at this and find it an odd one to find so appealing, but as an English girl in America this really stood out to me.  As a blogger, it was important for me to find someplace quiet to work (I tend to need total quiet and get too distracted in coffee shops – maybe I'm just not hip enough).  Imagine my delight when I discovered the Public Library of Seattle!  Huge open spaces with work stations and free internet, or quiet rooms…and just look at this architecture!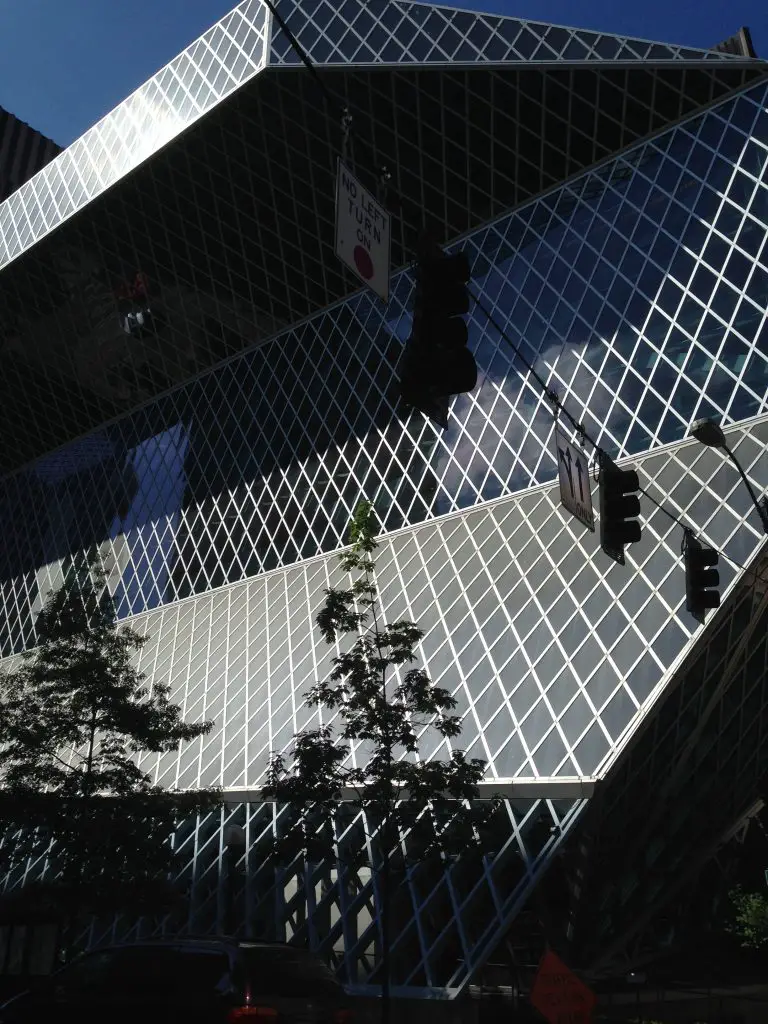 Even local neighbourhood libraries are well stocked and quiet: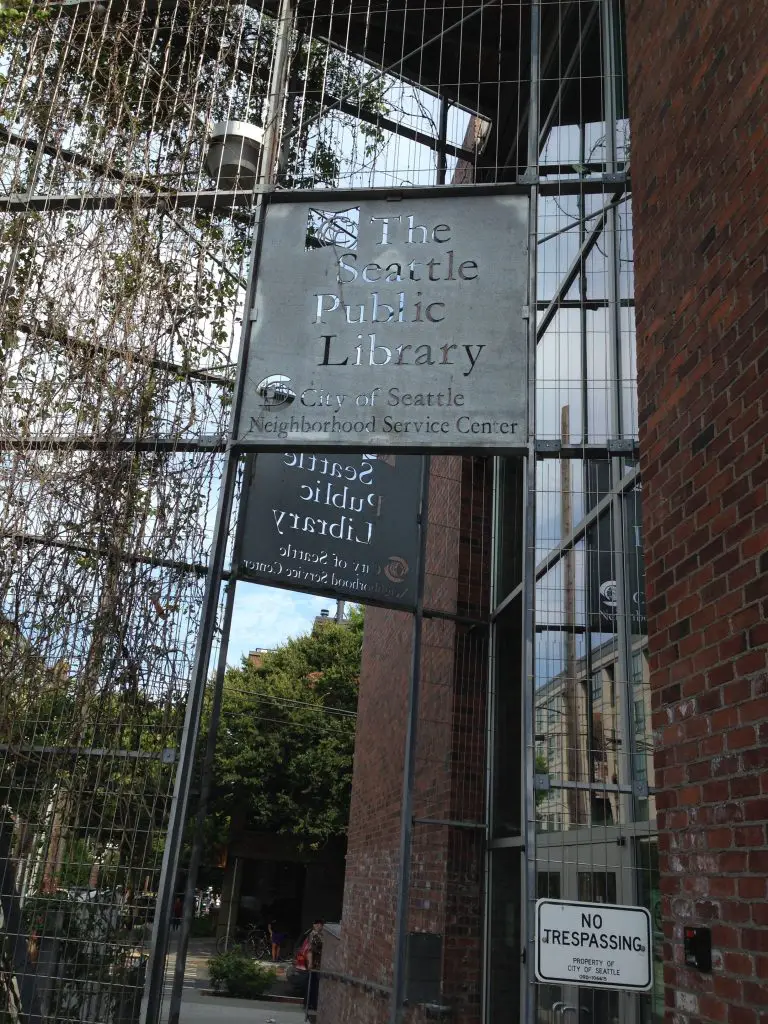 5) Neighbourhood 'block' parties
I was fortunate enough to be there during the time when Seattle closes its streets in different neighbourhoods at different times of the week/in the evenings and has a 'block' party (effectively a street party).   It's a chance to get to now your neighbours and socialise in the street, a long table is placed with food donated by everyone – and it's actually (to coin an American phrase) – TOTALLY AWESOME!
I was so fortunate to be invited by a local woman who ran neighbourhood cafe The Ripple Cafe in West Seattle (do visit it if you ever get a chance to visit Seattle and stay in the area.  There are plenty of AirBNB places in West Seattle and it makes a great alternative to staying in the centre, plus it's easily commutable to downtown by the great public transport, as mentioned above).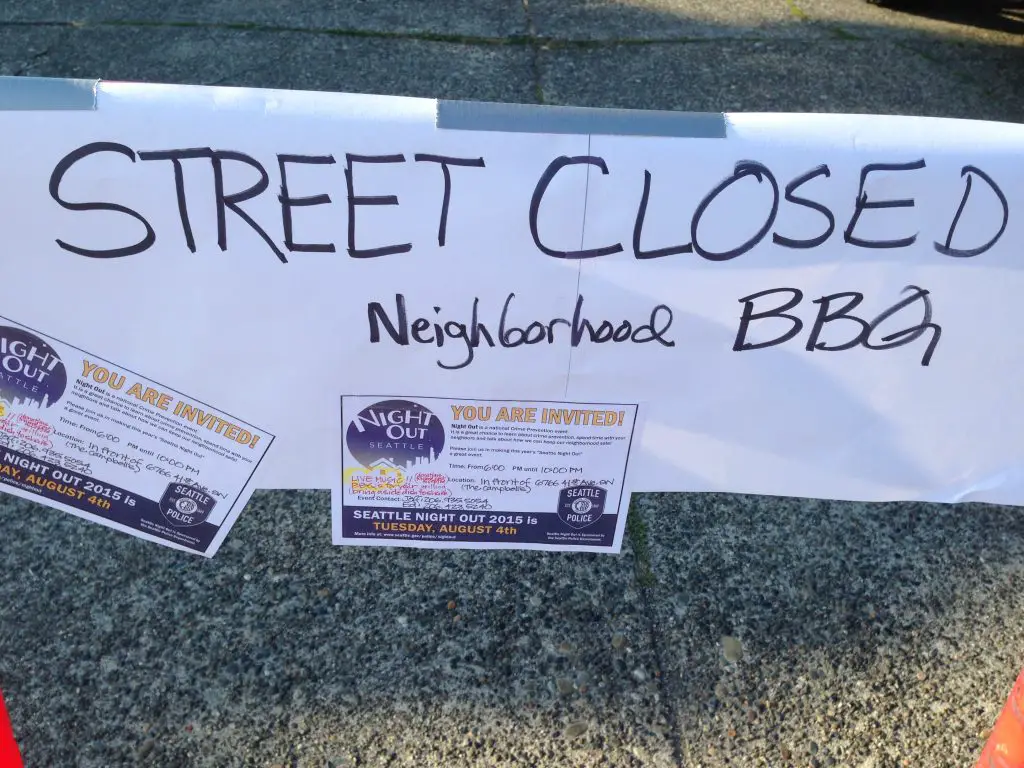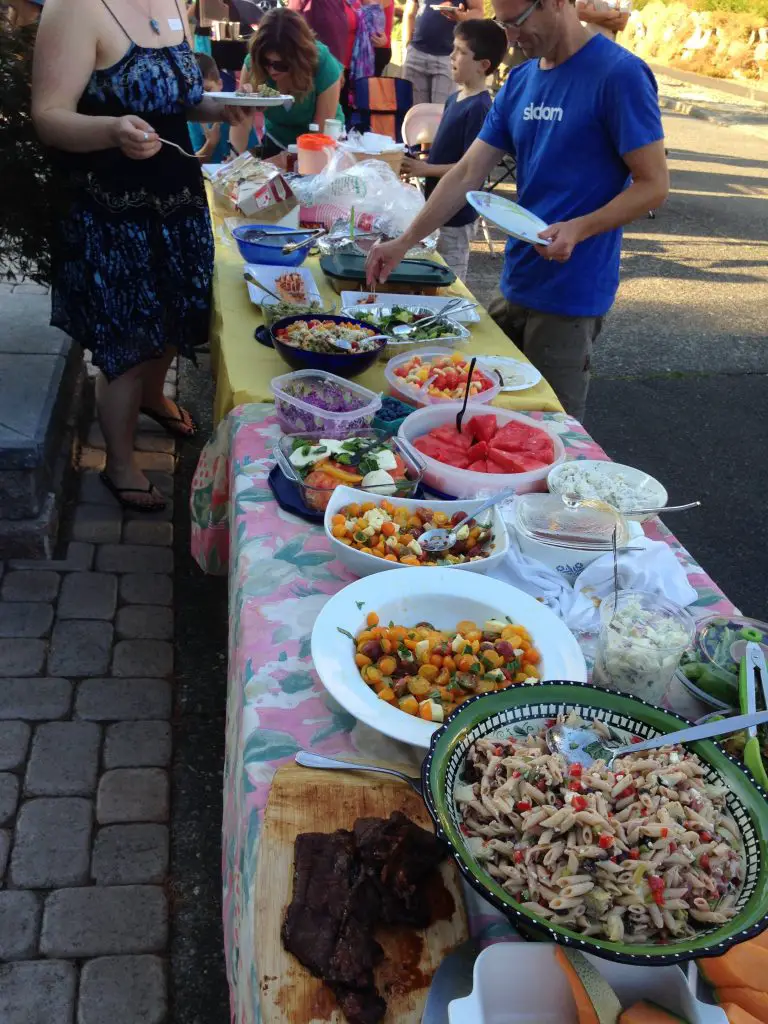 And there was even a live band – who regularly plays at joints around town.  Check them out (and the kids having so much fun)…
6) Uber
OK, I have exalted the merits of public transport in my time in Seattle – but you know, as someone once said to me;
Sometimes ya just godda get an Uber!
Yes.  Quite.  For those of you unfamiliar with Uber, it's an app you can download to your phone and order a car (just like a cab, but cheaper and better) and instead of waiting for about half an hour for an available taxi, and possibly having a driver with attitude, Uber drivers are super helpful, are with you within minutes, you can estimate the cost of your journey before you travel and the cars are clean and almost always come with bottled water for the client.  I've used it in London and the States now (Seattle) and I cannot recommend it enough.  Sorry taxi drivers…I know you're striking all over the world because of the competition, but what can I say?  Clean car, there within minutes and CHEAPER does it for me.  For example, I paid $28.27 for a ride from West Seattle to the airport, which was a journey of 14.98 miles and took 22.92 minutes.  Yes, Uber even gives you a detailed breakdown.
All in all, I loved my time there – but yes, there are some Cons to look at too:
Cons – English girl in America
1) The "How are you?" culture
Yes, ironically this is a detriment too.  After the second week of people repeatedly asking me with (what now seemed to be a frozen) fixed smile, I started to wonder: what would happen if I actually said;
You know what?  My day's really sh*t.  I just lost my cat.
As an English girl in America I wondered: would people still smile at me and give me the thumbs up and say "Greaaaaaaat!"?  I was too kind to actually try this out.  I thought I'd just role with it.
2) The word 'like' being injected into virtually every second word
As a teacher of English as a Foreign Language, I am aware that maybe I can be a little too picky when it comes to my native tongue.  There are several differences between British and American English (Aluminum?  What the hell is that?!  It's Aluminium – even my spellchecker on my Mac knows that!)  Torch vs flashlight, etc.
As an English girl in America, my pet peeve, however, was the propensity (see? I am starting to enunciate properly now) for Americans of ALL ages (well, except for maybe the older generation, thank God) to inject the word 'like' into literally every second word of a sentence.  Example:
So, like, I was walking down the street, like, and I, like, saw this man who had, like, tattoos, like, all over his face and, like, I got a bit scared and felt, like, I should cross to the, like, other sidewalk.
Aggghhhh!  It's like (sorry, but that's used in the correct context) listening to someone chomp on chewing gum without their mouths closed!  And there were people using this phrase who seemed to be from all walks of life…even on NPR radio when an academic was interviewed!
I asked a kind man in his 20s who was serving me coffee to explain, and he laughed and said that now I, like, mention it (*sigh*), he can hear it too.  He blames in on "The Valley Girl" and this fab YouTube video I found, like, totally explains it:
3) The aggressive driving (not of Uber drivers) makes being a pedestrian dangerous!
And the amount of people using their mobile (sorry, cell) phones whilst driving!  OMG, you think Athens, Greece is dangerous? I was really quite taken aback at how aggressive the driving was.  Example; in the U.S., at a stop light the car is allowed to turn (yield) left or right despite the red light, so long as the road is clear of both other cars and pedestrians.  Well, it is as if pedestrians don't exist to some cars.  The just go ahead and yield anyway, irrespective of the fact the little green man is showing for me to cross.  And, (get this): they have the cheek to honk at me as it's it's my fault for getting in their way!
I pointed rather obviously at the green man, then realised I should probably not provoke someone in the U.S. in a car…after all, we're talking about a gun culture here and who knows how road rage manifests itself in this country?!
My Seattleite friends laugh at me and say that people from different states come to Seattle (and Washington State in general) and comment on how polite the drivers are!  Apparently it's much worse in California…jeez!
4) The beauty of the Pacific North West!
Yes, conversely this was a con for me as well.  As you have probably gathered from above, I fell in love with Seattle sunsets and the San Juan Islands chain, Mount Rainier, etc so much that it was hard to drag myself away.
Conclusion
You'll see my Pros far outweigh the Cons – I fell in love overall with the Pacific Northwest.  The people I met have become firm friends and I have had more than one offer of a place to stay should I ever go back (which I fully intend to do).
Thank you – Seattle – for starting my love affair with the West Coast of the United States.  Let's see how different it is if I get the chance to explore more of your country.
Photo by Dave Sizer