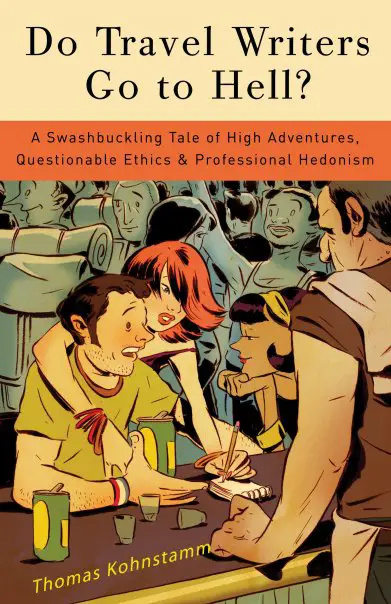 Thomas Kohnstamm, in my opinion, is one brave man. Some (including Thomas) might say he's stupid, maybe even delusional. Because he traded his 9-5 lifestyle for a life of travel and no fixed abode? No, plenty of people do that. Because he became a travel writer for Lonely Planet? Nope, there are plenty of travel writer's out there. Maybe it's because in 2008 he released his expose Do Travel Writers Go to Hell?—about his first stint of travel writing for Lonely Planet's Brazil guidebook.
It piqued my interest as I write for Rough Guides, the competitor to Lonely Planet and I was intrigued to read about his experiences, see if they matched my own. I can safely say Thomas led a fabulously complicated journey of sex, drugs and rock n' roll – literally, whilst on the road. My trip around the Greek Islands paled in comparison!
I won't give too many spoilers, but suffice to say I laughed aloud and am honoured to be able to interview Thomas.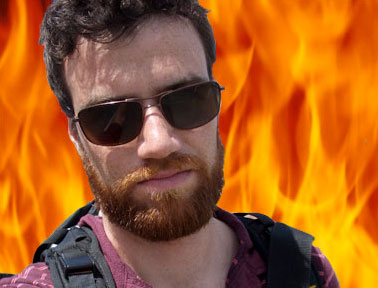 BIO: Thomas Kohnstamm is a Seattle-based writer and video producer. He wrote phrasebooks, guidebooks and travel articles from the late '90s until the late 2000s for the likes of Lonely Planet, MSNBC and Forbes. His 2008 gonzo memoir Do Travel Writers Go to Hell? was published in numerous languages and was in development as a comedy series at Showtime. He currently writes and makes videos for Xbox and other brands and is finishing his first novel. Although he now has two young children, he is still an avid traveler (when possible) and spends part of each year with his family in Brazil.
---
Everybody dreams, sitting in their cubicle, of jacking it all in and 'doing a runner.' In your case, you were offered the opportunity to write for Lonely Planet's Brazil Guidebook.
What was the straw that broke the camel's back and pushed you to take up the job offer – and how easy was it to get the job? Did you apply, or was it a case of 'it's not what you know, but who?'
I pitched and wrote a phrasebook for Lonely Planet just a few months after I graduated from university in the late 90s. It was the right idea at the right time. I pitched them through their customer service email and they bought it!?!?
They offered me a guidebook gig after I completed the phrasebook, but I had already been accepted to graduate school – so I passed and for the next few years, my life took a very different direction. I ended up in New York City, working as a researcher on Wall Street. I was doing what I thought I was supposed to be doing; I had an apartment, a girlfriend, a routine… a toehold in an urban middle-class American existence. But I felt like a fish out of water and wanted something different out of my life.
I was in need of a change when I received an email from Lonely Planet asking if I was interested in picking up a gig in Brazil. It still wasn't an easy decision to make. I had a lot to lose and no guarantees.
When you left for your adventure, did you have any regrets?
I didn't have any regrets on the career front, but the relationship and lifestyle stuff were difficult. I had to make some hard and ultimately selfish choices. To succeed as a travel writer, you have to go all in and make some pretty big sacrifices in the process.
 How much preparation and help were you offered?
None.
The book is peppered with a multitude of adventures. What was the hairiest one?
Hard to say. Getting out of New York was definitely the most difficult part.

As for Brazil, things are always tricky there. It's a hot mess – that's what makes Brazil Brazil. My wife is Brazilian and we spend at least one month every year in Rio visiting her family. Things area always fun and crazy and just a hairline away from becoming legitimate trouble.
Is there anything you would do differently?
Regarding the trip: Everything. Nothing. It's hard to say.
Regarding the publication of the book: I would have gotten the book out to more travel bloggers ahead of time rather than relying on the publishing house and major media to publicize it. The story got twisted up in a sensational Aussie tabloid story that went global and then the controversy and online backlash jumped off the rails. It had little to nothing to do with the actual content of the book.
What happened with Lonely Planet after the release of your book?

I wasn't writing for them anymore when the book was released. I hadn't since before I published my book. They threatened to sue me. I was blackballed by other travel publishers too. Travel + Leisure scrubbed all of my bylines from their site. But others, like Forbes, became keener to work with me and said they appreciated my unvarnished approach – so who knows…
 What advice do you have for any aspiring travel writer?
Study storytelling. Learn to write vividly about people and place. Travel information is now a commodity. It will get even less valuable as more and more comes from user generated content and data clouds. Good storytelling is the premium skill that can be used to negotiate a better fee and can also allow you to write in other genres to round out your freelancing career.
---
For me, I felt Do All Travel Writers Go To Hell is definitely worth a read, for an insider's view of life on the road – the reality. Whilst I could relate up to a point, there are a lot of elements that differed for me. Even so, Do Travel Writers Go to Hell? tops my list of reading books.
Follow Thomas on his website, Facebook or Twitter
Featured image courtesy of: http://www.thomaskohnstamm.com/