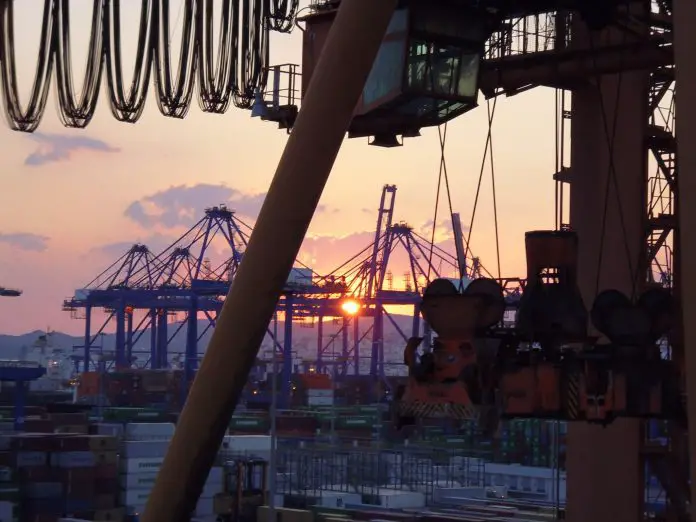 You must be wondering what there is to do on a container ship. Well, so far I've not been bored. I've spent a lot of my time on the Bridge, watching sunrise and sunset, plus moonrise.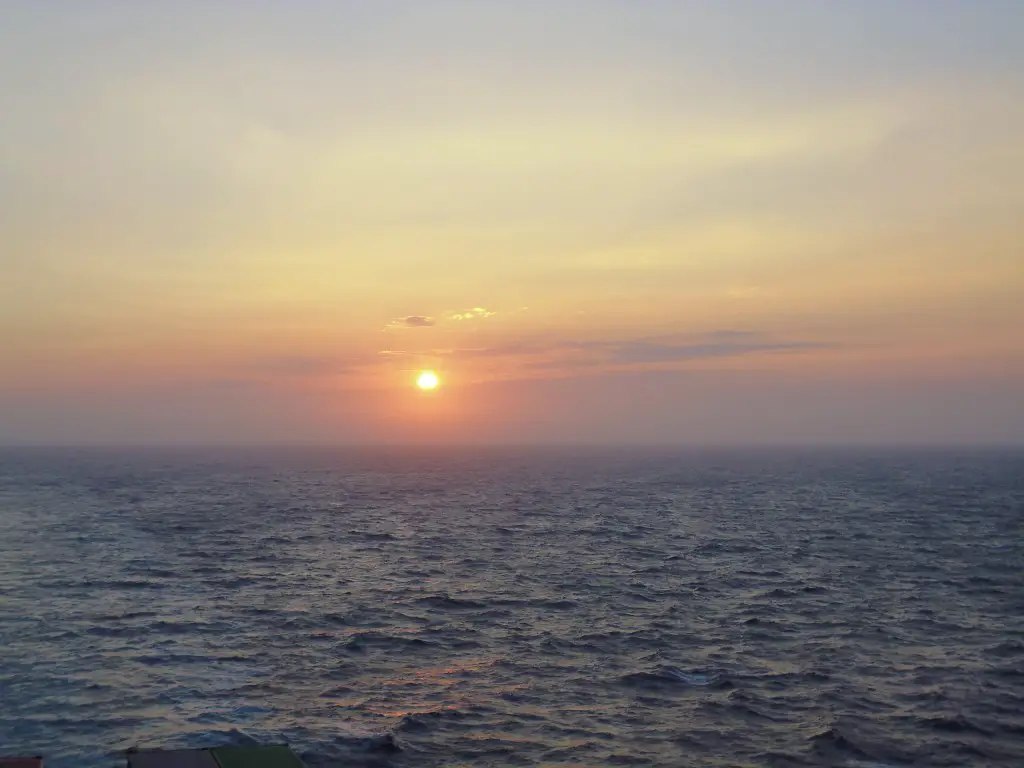 And to be honest, I think the crew like someone different to speak to. It's interesting to hear their stories about where they've been in the world, about their countries and have navigational terms explained to me.
The swimming pool's been filled now  so I intend to exercise every day, plus read, write and sleep.  Yes, I think it must be the sea air because for some reason, I'm sleeping…a lot.
I've been up to the 'Castle' (the front of the ship) and sat for a couple of hours, reading and chilling out. It's very quiet up there.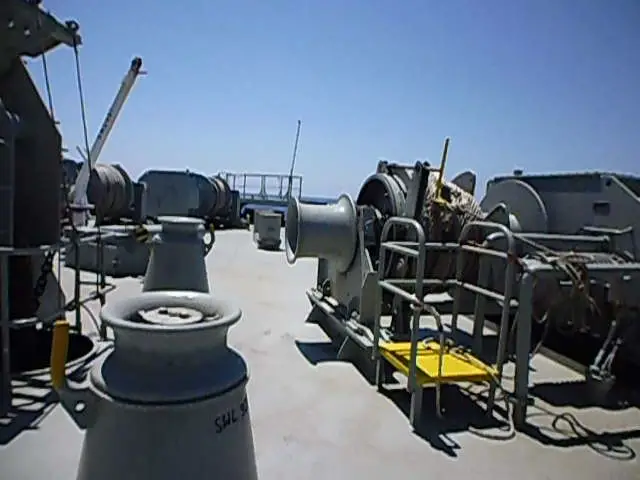 There's also an Officer's Day room with lots of videos, even the VHS kind! Most of the videos are the BBC Blue Planet series, so when I want to, I'll settle down and watch some about sea life, penguins and polar bears. But for now I'm content to read in the quiet Castle area, chat to the crew and sing karaoke (read below).
Things I will do in time:
·A tour around the Engine Room
·A practise emergency drill.
Food
What about the food? I was apprehensive at first as I had no idea what to expect. It's not a cruise ship after all. This pic gives you an idea (I will upload video later, it takes a long time to upload) and whilst it's not gourmet food, it's well prepared, and 'prepared with love:' the chef explained that he misses his family – wife, young boy and girl – so when he prepares our food, he always thinks of them and this makes him happy. I assured him the love comes through into the taste of the food, this seemed to make him happy! He also listens to the rock band Journey a lot and you'll always hear him singing…this is one good-natured chef.
Meal times:       
Breakfast: 07:00 – 08:00
Lunch 12:00 – 13:00
Dinner 17:00 – 18:00

Something you wouldn't do on a cruise ship / differences
I had a 'Titanic' moment yesterday. You know, where Kate Winslet goes to a 'real' party in the bowels of the ship with Leonardo Di Caprio? Let me explain:
Passengers have to eat in the Officer's Mess area.So I eat on the same table as the Captain, Chief Officer, Chief Engineer and 2nd Engineer. These crew are German and Polish. The Chief Officer, as I said in my past post, is pleasant and friendly, the Chief Engineer is friendly enough and the Captain, well, he's just very 'German.' We have a new Swiss Captain joining us in Genoa and interestingly, most of the crew have said words to me such as
Don't worry, the next Captain is very friendly and smiles a lot.
Everybody seems very excited about this new Captain joining…hmm, that speaks volumes, especially for all the crew to say the same thing. You have to read into what's NOT said sometimes.
So the cook and Steve, the Steward, motioned to me after my meal.
Come and join us all in the evenings if you like.
The non-officer crew have a different meal and Recreation room. I wandered down there at 7pm to find those who're off duty loading up Karaoke onto a big screen and belting out Barry Manilow, Queen and Journey (yes, the Chef), amongst other songs! I refrained this time, but feel comfortable joining them whenever I want to, to sing a few of my own. They often play the guitar too.
So I joined the 'real party.' I say that it's something you wouldn't necessarily do on a cruise ship as I'm aware that cruise ships are passenger focused, hence there's a lot of entertainment put on for people. I don't know whether you'd be allowed to join in the staff's own parties on board. A container ship's different: the passenger is like one of the crew, except he/she doesn't work. You become involved more and interact a lot with all the crew, becoming like one big family, but being mindful not to get in the way of their work.
Another difference to note is the actual boarding of the ship. Once inside, there's a lift to take you up and down the various levels but to actually join the ship, there's only a very steep walkway
Note if you're not too able bodied, container ship travel might not be for you.