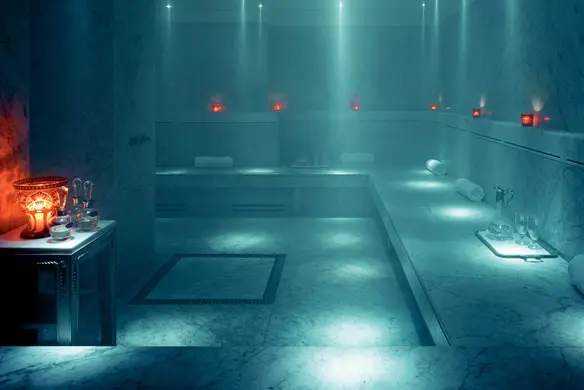 I'd been offered a free Turkish Bath at Hammam in Thissio, almost near the Acropolis.  You can go onto their website to get an idea of their offers, etc.  Let me give you my personal account.
Had I ever had a Turkish bath before?
No. So it was with some trepidation that I set off, with the instructions to bring a swimsuit.
??  I thought I was going for a 'bath.'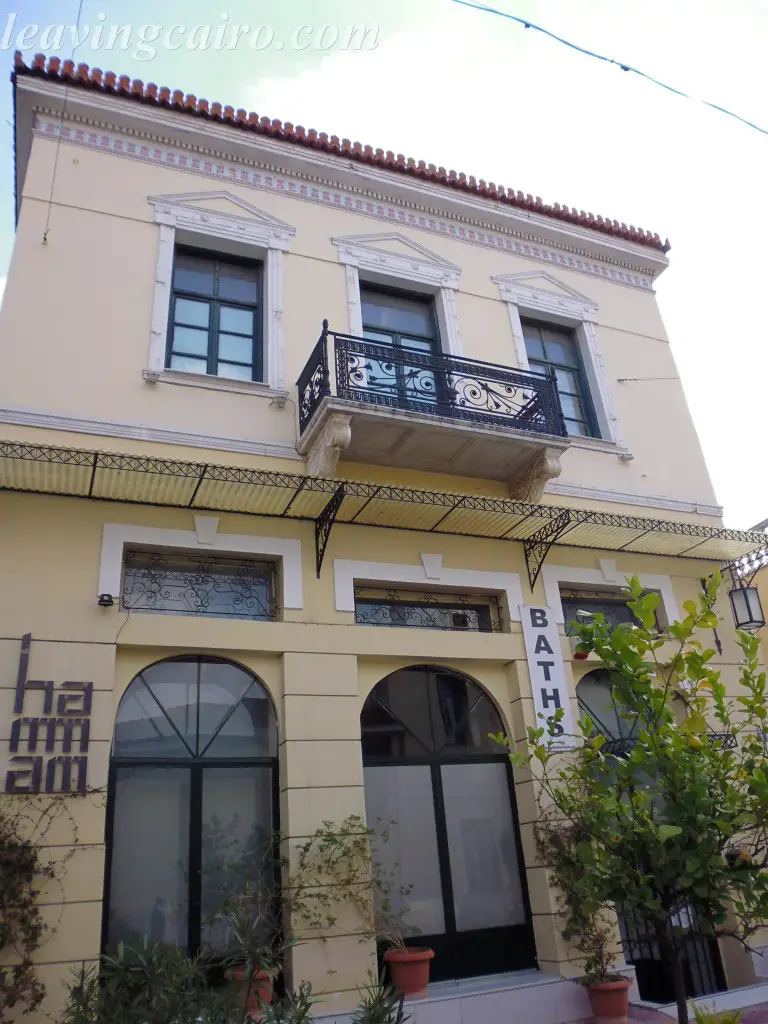 The staff were very friendly when I stepped through the door (I had to be buzzed in).  Set in the quiet neighbourhood, very near Thissio metro I was shown around: where to undress, to wrap a cotton sarong around myself, irrespective of the fact I had a costume on.  Note: The Hammam is mixed ie: male and female, except all day Tuesday's, when it's Women Only.
Having locked my belongings away and treading carefully down the stairs in the wooden clogs provided, I was shown into the steam room (see Featured Image).
You will sit on the marble, you will fill up your bowl to your desired temperature and pour down you, like this
said my 'host, and then she proceeded to throw water over me.  Well, not throw – but unceremoniously tipped it over my head.
OK?  I see you in half an hour.  Continue to do this.
Still reeling a little from having water chucked over me, I took in my surroundings and the lovely warm atmosphere.  I was alone, sitting on a marble semi-circular seat and so, when in Rome, I shrugged my shoulders and did as I was told.  After 15 mins, thoroughly drenched and my arm getting slightly stiff from constant chucking of water over myself, I popped my head outside.
Could I possibly have a glass of water?
I was a bit afraid of this lady, hoping that, too, wouldn't get chucked at me.  But no, she kindly passed me some and I gulped it down, now aware of how dehydrated one can get in a hot, steamy atmosphere.
You now come with me
The constant bathing of myself (I felt like I was cleansing myself of my sins) was over, and I followed her into the other room.
Lie down on here
'Here' was a marble slab and this, Ladies and Gentlemen, is where I, personally, feel my true Turkish experience began.
The brochure describes my treatment as:
The Ali-Mama Hammam is the absolute ritual of heat, steam, massage exfoliation and relaxation.  You begin your ritual on the warm marble stone, with a rejuvenating steam bath [ahhhh, so it was a steam bath, not a drenching] before a deep exfoliating scrub with a single-use ketseas from our professional masseurs.  Next, indulge yourself in an invigorating and luxurious full-body massage with foam from natural olive-oil soap as the experience ends with a deep cleanse and conditioning of your hair with head and scalp massage.  This is followed by tea and traditional delights in our lounge before heading back to reality.
And boy, did I get stretched and massaged!  Lying on the marble, heat radiating through my aching back, this is where I literally had to surrender completely.  And trust.  She was professional beyond belief.  The foam had me chuckling as I had my eyes closed (had to) and I felt this substance being applied to my body, then suddenly it fizzed up to engulf me!  I wanted to giggle, but couldn't for fear of foam getting in my mouth!
Pummeled front and back, my scalp massaged and hair washed (don't you love it when someone else washes your hair?) I also noted with interest that regularly, the masseur would stop to pour water over herself. When it was all over, I asked her about it – thinking this was some sort of ritual whereby she has to cleanse herself of any 'negativity' from her clients (not that there's any radiating from me, let me assure you!)
I get hot, so I have to cool down
Oh – well that explained that then.
And seeing I looked a little woozy, she wrapped a big towel around my body and head and led me to the lounge, where some God like figure came up and placed a glass of water, tea and Turkish sweets in front of me.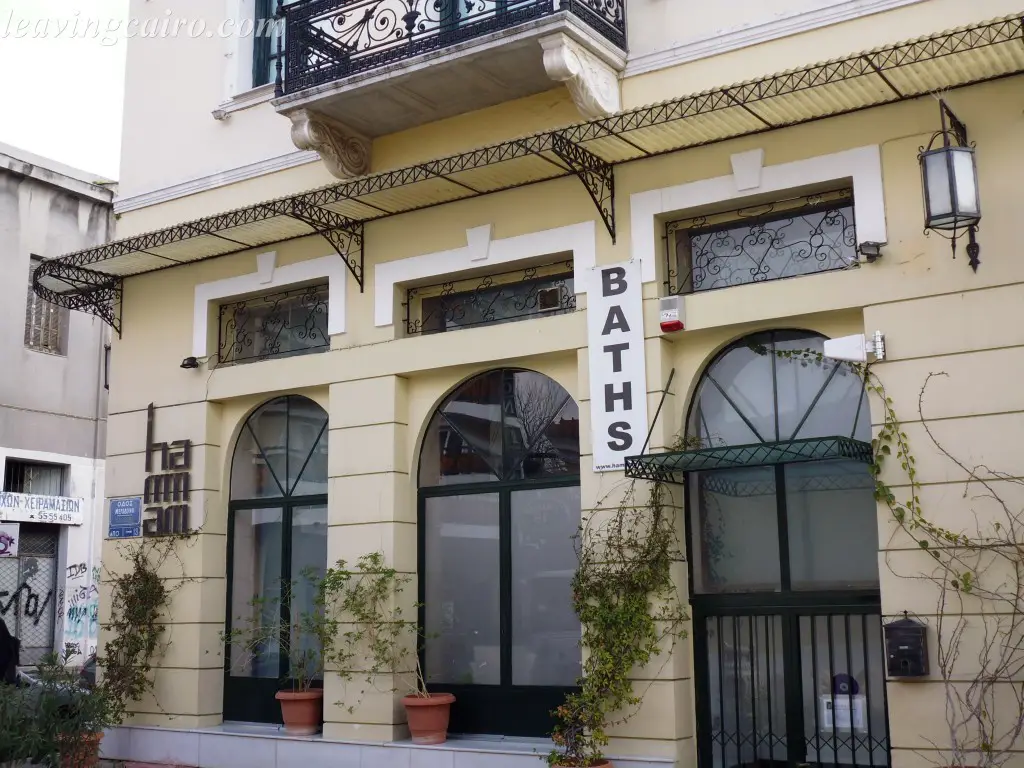 I didn't want to leave that womb like environment.
I really did feel as if I had regressed, in a positive way.  I would recommend a Turkish bath, especially the Hammam if you're in Athens.  It's very central and an experience that you must feel comfortable with the people providing the service. Once I got over my initial reserve, I found the service professional and enjoyable.
Thank you, I shall be back!
Featured image courtesy of http://loveisspeed.blogspot.gr/2012/01/faena-el-porteno-hotel-by-philippe.html.