In a piece I wrote for my "Leaving Cairo…" blog recently, I spent quite a long time moaning about being back in the UK, even though I'm just visiting for the holiday season.  Well, I decided – despite the abysmal weather, to get up off my arse and go for a wander along the local canal.
Off I trot – all wrapped up in silk thermals and scarfs, and guess what?  Yes, the heavens decide to open.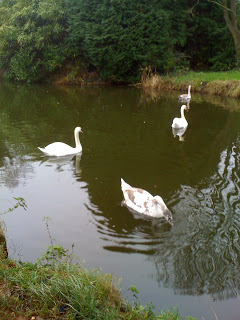 So there I am, hood up on my waterproof and grumbling about the UK and the only good thing about my dad's home town is the Indian take away – when I stop dead in my tracks:  there, gliding along effortlessly are a mother and father swan (Hen & Cob) with their two offspring.  I walk slower this time – and as if sensing my discomfort, very patiently stop for me under the shelter of a bridge, cocking their beautiful necks to one side and eyeing me as if to say
"It's OK – we know it's crap, but come and chat to us, we'll listen."
I reach into my pocket and pull out a slice of brown bread (brought with me for this very reason – on the off chance I run into some ducks…but I never imagined SWANS!).  I throw some in – they gobble it down.  I try a different approach: I tear off a bigger piece and lean forward ever so slightly – the male glides up to me, stretches his neck forward and gently takes it from my hands.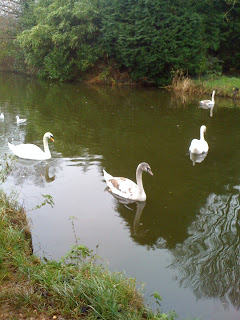 I felt quite emotional: in a world where people spend most of their time around technology, (and I am just as guilty – I have just received my Kindle through the post and will be spending the miserable, rainy afternoon playing with it), it is a beautiful thing when nature reminds us what is real and beautiful in life.
Thank you – mama swan and co.  Now, back to my Kindle…