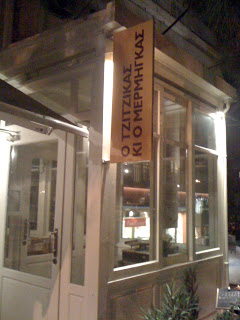 I don't know why I haven't written about this place sooner.  In the Spring of 2010, an old work colleague took me to a local taverna/restaurant in my neighbourhood.  Located about 10 minutes walk from a busy thorough fare, yet in a lovely quiet platia (square), Tzitzikas ki o Mermikas is a delightful find…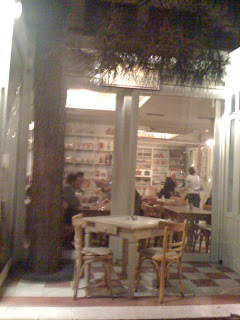 The name is Greek for those animals that make the high pitch screeching in the trees in the summer.  Most people think these animals are Cicadas' – they are in some countries.  It's hard to find an English translation for the Greek name of these animals (any Greek person reading this care to provide one?)
And did you know they make this noise to cool themselves down?  Anyway, I digress: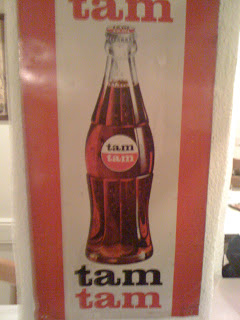 Tzitzikas ki o Mermikas has 4 restaurants in Athens in total: Halandri, Syntagma (in the centre and popular with tourists), Kifissia (in the Northern suburbs) and Ano Patissia.  The one in my neighbourhood is less touristy, therefore I love to treat myself and frequent it whenever I've had a bad day in the month and want to cheer myself up.  I'm lucky: the staff have got to know me now and we often chat, and if I'm lucky, I get a free dessert too!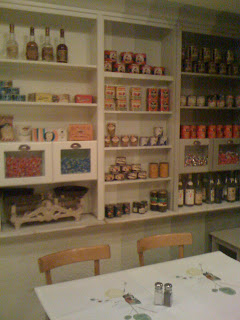 Decorated with food stuffs from the 1950's, the place has a homely feel. 
The menu is varied, offering Appetisers, fish, meat, salads and a variety of wines.  My favourite is the spinach, pomegranate and bacon salad with balsamic dressing, croutons and fresh Parmesan cheese.  Of the meat, I invariably go for "Chicken Mastihato" – a sweetish chicken dish cooked in fresh cream, Chios mastic alcohol and set atop a nest of kantaifi pastry (the stringy pastry you see with Baklava Greek desserts sometimes).  Oh it's DELICIOUS!
Food can be a little pricy – but offers are frequent, eg: 2 dishes for 15 Euros.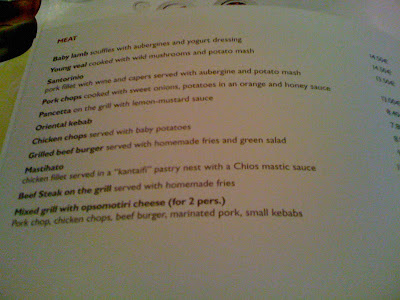 Menu in Greek and English
My favourite spinach salad – mouthwatering, literally!
Not only is the food delicious at Tzitzikas ki o Mermikas, you are paid attention to, receive good service and most importantly – friendly too.  It feels like I'm going to a friend's house for a meal.
So, enjoy the pictures and make sure when you come to Athens, you visit this highly recommended place.