I was quite happily purchasing a light bulb from my local electrical store (not really significant to the story, but never mind – a bit of detail always helps to add atmosphere).
Old(ish) woman in shop:  "You're English." (statement, not question)
Me:  "Yes"
Her: "You married?"
Me: "No"
Her: "Why not?"
Me: "Err……  (while I'm still pondering this)…
Her: "Never mind, you meet some nice Greek boy"
I had heard friends jokingly telling me that this might happen, but it actually did…yesterday…at 10:30am.
On a seperate occasion a good friend's aunt met me for the first time, just after I had got my first foster cat to look after from NineLives Greece
I'm introduced to the aunt by my friend and my friend explains (in Greek) about the fact I've just got a cat to look after.
Aunt: "You young girls these days.  No men for you, only cats."
The 'good Greek boy:'  OK, for those of you in the know and with experience, you'll probably understand why I choose the company of cats!  Am I destined to turn into one of those women…you know, the type that has 40 or so cats in her home? I bloody hope not – but read this article by Anastasia Barbadonis and you'll understand about 'those good Greek boys.'
*
Find me one who hasn't been breastfed by his mother up to the age of 30 years (ugh,) and I will happily consider marrying him.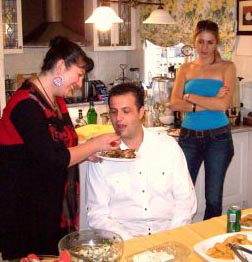 Photo taken from an excellent article by  http://au.greekreporter.com/2010/04/14/greek-background-couples-in-australia-mamas-boy/
*