I know it's the A-Z Blogging Challenge, but I wanted to add this here after what happened today:
So, I had to go to the bank today and rather than use the nearest one to me and be charged 2Euros and 50C for the PRIVILEGE of not using my own bank, I took a trolley to the nearest branch of my own bank (sadly they're closing down left right and centre here, making me wonder if they might move out of Greece altogether – but that's another story).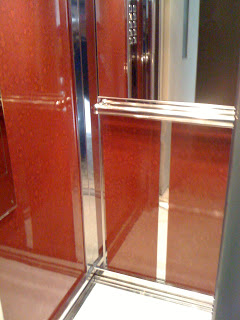 Rather swanky, but small lift in my building
Now then, we have a rather swanky, if not small lift installed in our building and I find an old lady inside it already.  As it's a small confined space, I felt obliged to make small talk:
"Poli orea!" ("Very beautiful") I indicate to the lift.  The old lady lets off a stream of Greek to me, culminating in a hearty chuckle, us thanking each other profusely when we open the door and her grabbing my left cheek and pulling! (clearly the fact I'm an adult doesn't deter some people from doing this).
Upon returning from the bank – there's another bloody snarl up of traffic at the Polytechnic due to some new demonstration, so a long line at the bus stop.  I get on the first bus and decide to go as far as I can and walk the rest of the way.
The whole bus is chattering away to each other – the old people helping strangers with directions as people have had their normal journey's interrupted.  The old people make me smile inwardly – they talk to anybody about anything (as my lift example proves).
My slightly longer walk home takes me past my hairdresser's.  He runs out, grabs me by the arm and pulls me in – gets his cousin (who hangs out there) to translate that he was JUST THAT MOMENT thinking of me and there I am!  He shoves a piece of pizza in my hand, pulls my cheek (*sigh*) and says in clear English "Ohhhh you're so delicious I want to EAT YOU."
"Oxi paracolo" (excuse my spelling, sorry!) I reply laconically ("No thank you!")- cheese stuck in between my teeth.
And so my planned relatively short trip to the bank ends up taking a good 2 hours or so.
Ahhh – don't you just love Greece?