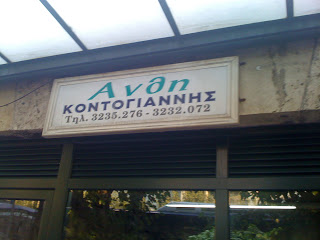 Kontogiannis Flower shop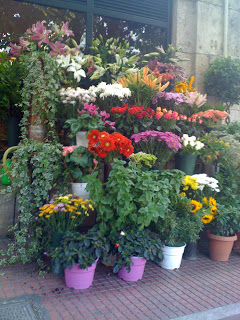 I had the best end to a day today.  Having been to work and receiving disappointing news about my salary (I live in Greece, remember) – I was walking past the Parliament building when I looked over at the flower shop. Located on Vasilissis Sofias St, literally right underneath the Parliament,  I pass Kontogiannis Flower Shop every day and often stop to look at the gorgeous displays – they cheer me up. This time I decided to pop inside…besides, a week ago a friend of mine commented, as we walked past, that it is reputed as being the oldest flower shop in Athens.
Caroline (pronounced Caroleene), a bright, friendly young lady in her early 20's greeted me with a big smile and told me she would be with me in a second – after she had served the man purchasing a single pink rose (ahhh).
When she gets to me, we sit down for a chat:
Caroline:  "It's been in [our] family since 1915, it was my great grandfather's."
Me: "Good heavens!  Has it always been a flower shop then?"
Caroline: "Yes, it's written in the license that it can be nothing else."
Me: "So what type of clients do you serve?"
Caroline: "On a weekly basis – hotels, major companies and banks and then there's the passing trade."
We then go on to discuss how the passing trade can be affected.  There are both positive and negative points to being so central:  a central location is fantastic for the passing tourists as they visit the Parliament building and of course, they have their regular clients, but on the downside there are often troubles in the centre of Athens, especially around Parliament (think police throwing teargas).  This often keeps passing trade away.
I ask her about the affects of the teargas on the flowers…Caroline looks at me like I'm a little silly and suggests that there are more important things to be thinking about at that time, eg: our own lungs?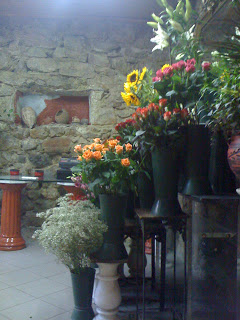 "But!" she hastens to add, "we never close when the troubles start.  Even when the tanks were on the street during the dictatorship in my grandfather's era, he kept the shop open.  Even in the demonstrations we stay open" she proudly tells me.
Part of the same unit, further down is another small flower shop recently closed due to the owner retiring and Caroline tells me that that particular 'unit' has bullet holes in the walls from the German occupation of Greece in WWII!
Her mother and father run the shop in the morning and she comes, after university in the afternoon to work. 
We go on to chat about her studies, about life in Greece in general these days – the good and the bad…the fact that the police van regularly chooses to park RIGHT outside the shop (and not outside the shop next door that is closed, say), thus blocking their view and any people who might not know they're there.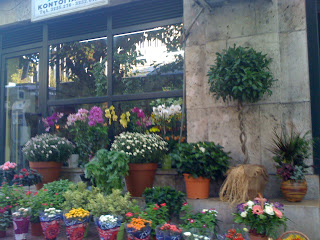 Caroline is preparing a bunch of purple lilies and pink roses as we speak – the smell is gorgeous (I am a lily fan).  And as I leave and am near the bus stop, my (purple) phone goes and it is her, calling me back.  She has forgotton to give me this bunch she was preparing!  I hurry back and Caroline hands them over, telling me they match my (purple) dress.
I leave with a big smile plastered on my face.  You see?  Amidst all this negativity these days (especially in Greece), there will always be flowers.
It's always nice to be given flowers
So a big THANK YOU to Caroline and, I know you're going to be reading this so feel free to comment and if anybody has any questions for Caroline about this delightful shop, please feel free to post them here and I am sure she will answer.  BTW, they are part of the Interflora network and deliver.