One weekday in the hot summer of 2017, I was invited by fellow members of the Travel Bloggers Greece team to experience a new Thai Massage place in the centre of Athens.
**Despite any complimentary services received, all thoughts and opinions remain my own**
Location, Location, Location
In Athens, you'll find businesses set themselves up in residential apartment blocks – there is not a law that says you cannot do this.  You could find a Doctor's surgery, dental practise or even a Thai massage place within a block of flats.
This is quite ordinary practise here – but could make for difficult finding for the visitor (although Google Maps nowadays does help).  Despite this, some visitors may feel a little intimidated and prefer the aesthetics of visiting an actual shopfront, dedicated to its line of work.
If you're looking for a Thai Massage experience in Athens with these aesthetics, the newly opened (as of JULY 2017) Nuad Thai Massage in the bustling Thission district of central Athens is for you – and not just because of its location (although this certainly does help).
Nuad Thai Massage
Hours: Daily 10am – 10pm.
You'll see that Nuad Thai Massage is just walking distance between either Monastiraki or Thissio Metro stations, in the heart of the tourist district and the main sights of Athens (as well as alternative sites in the centre).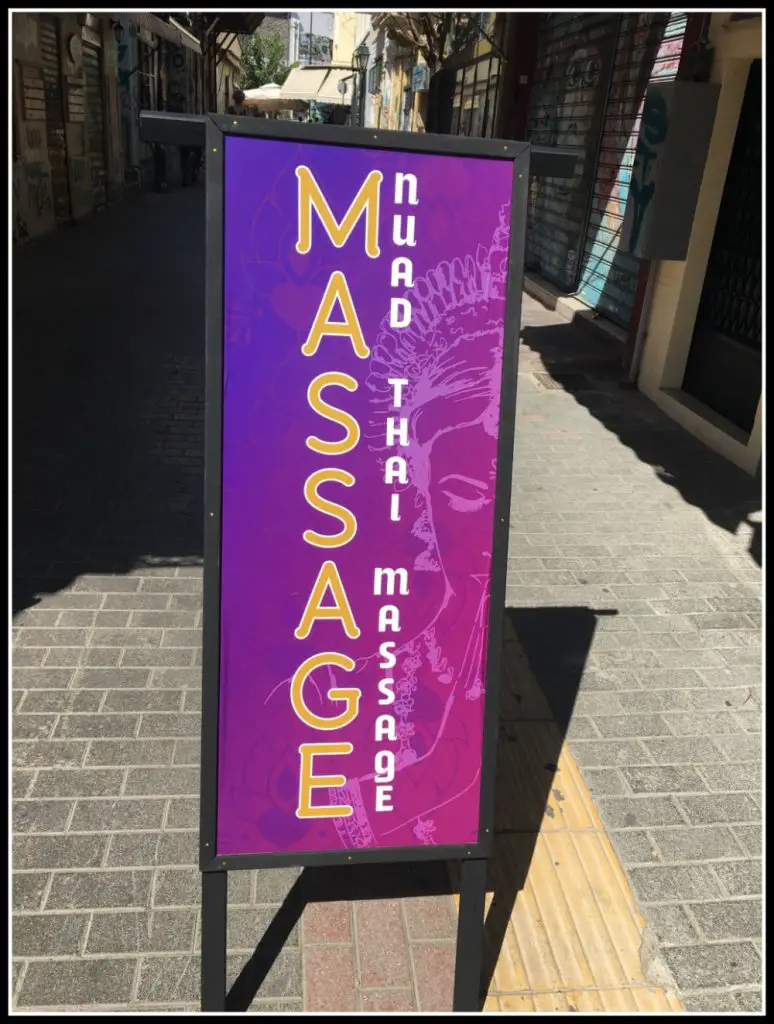 Turn down Thisiou Street and there's a big purple sign on the pavement that's pretty unmissable.  A small shopfront with big floor to ceiling windows that lets in plenty of light, in you enter to the quiet Reception area adorned in a womblike red colour with plenty of decorations, assuring you you're in the right place.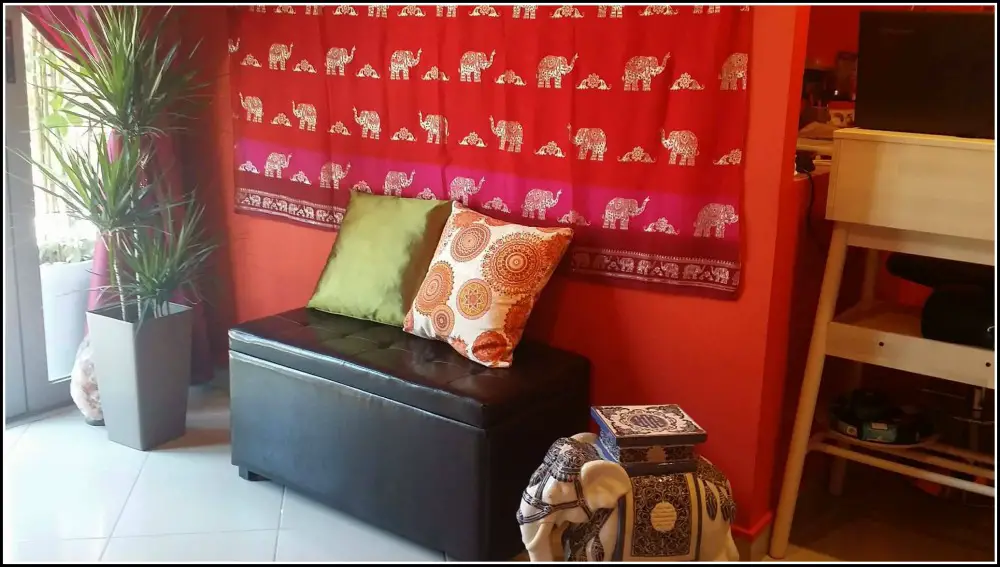 Nuad Thai Massage Treatments
Many of you will be familiar with Thai Massage: no removal of clothes is necessary and varying degrees of pressure is applied to various parts of the body that require it.
At Nuad Thai Massage, you have the option of lying on a floor mat in your private room, or sitting on a special massage chair, facing inwards whilst one of the 10 specially trained therapists work on your neck and back.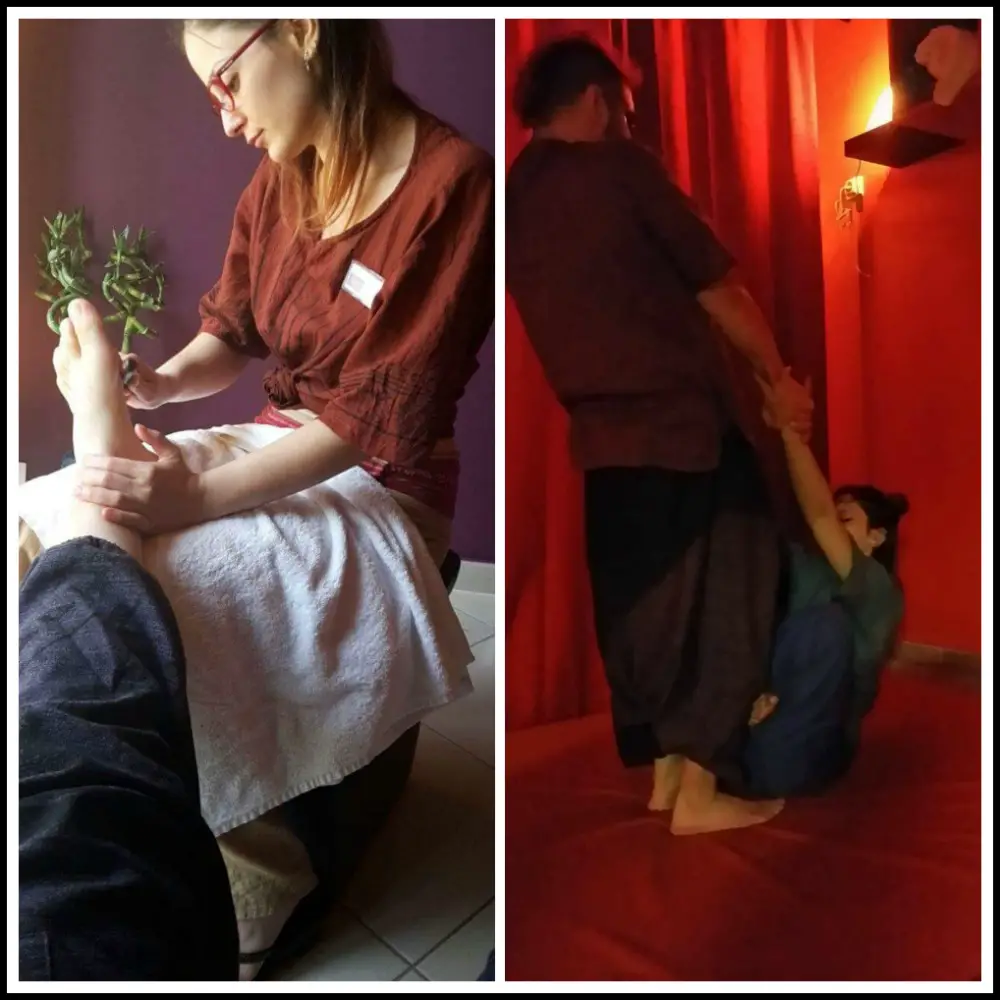 The treatments we were treated to that day were:
Foot Deluxe Thai Massage – 30 mins for €15
Chair Massage – 15 or 25 mins for €8 or €12
Guasha Facial Lift Massage – 15 mins for €12
Special offer to readers of Life Beyond Borders: Have any of the above treatments, and you'll receive a second one (from the above) for free!  Please quote my blog 'LifeBeyondBorders'
I honestly came away feeling like a different person; pressure points were seen to in all the massages given (when they're pressed on your face, it's amazing!) and I didn't feel as if I was pummelled to death.
Nuad Thai Massage offers
They offer a variety of treatments ranging from reiki to hot candle massage. What I found even better was the offers, for example:
Three massages for a 15% discount.  But the three don't have to apply just to one person. If, for example, you are visiting Athens with family or friends and want each friend to benefit too, then the 15% can apply to them too (obviously you'll have to have come for one full therapy session yourself first in order to get a discount).
All in all, I know I will be going back to Nuad Thai Massage whenever I can.  As a travel blogger, I regularly suffer from neck and back pain, so this is a perfect find for me.  And as I say, a perfect spot for any visitor to the city, no matter how long you're staying.
Had a long flight?  This is the perfect place to come.
Thank you, Icons and Whispers blog for arranging our treatment afternoon, and to Nuad Thai Massage for hosting us.
PIN for later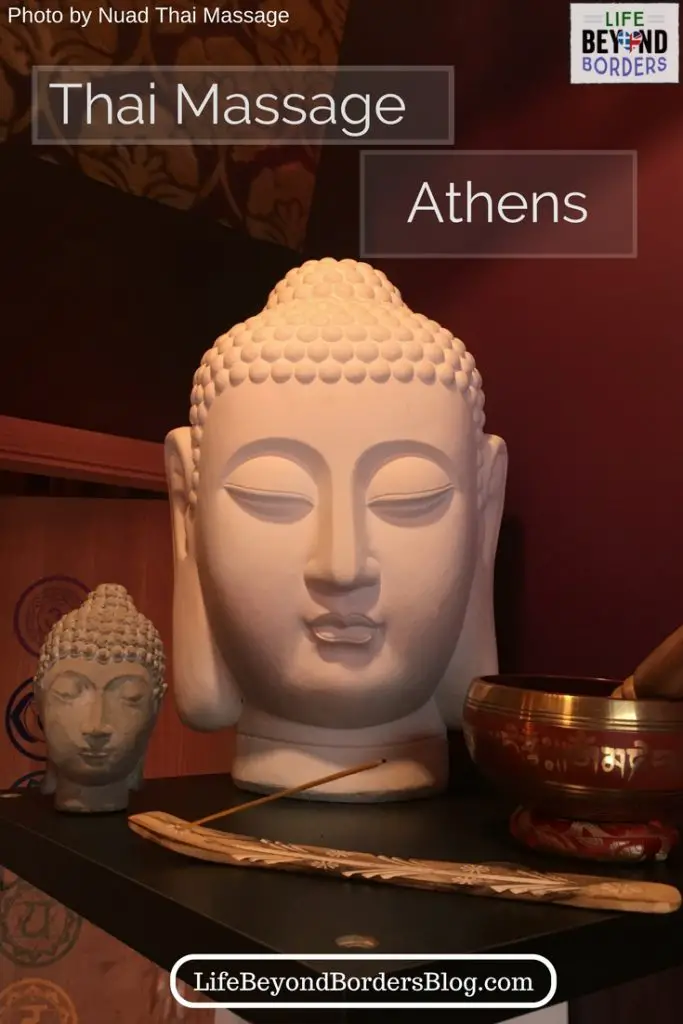 Header and PIN images courtesy of Nuad Thai Massage