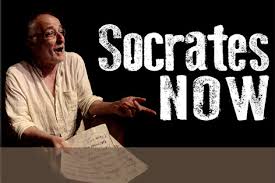 We all know who Socrates was: only one of the greatest Greek philosophers of all time.
I'm a fan of the Greek philosophers—I feel the world owes them a hell of a lot, but find learning about them tends to be quite dry and academic. Imagine my delight at discovering an artistic way to learn: why not educate and enjoy myself at the same time?
Socrates Now is a 75 minute solo theatre performance (in English with Modern Greek subtitles) highlighting the Apology of Socrates. Performed in seventeen countries so far—festivals, universities and theatres—in 2015 performances are planned from 27th June until 19th July and is expected to attract over 2000 viewers of all ages.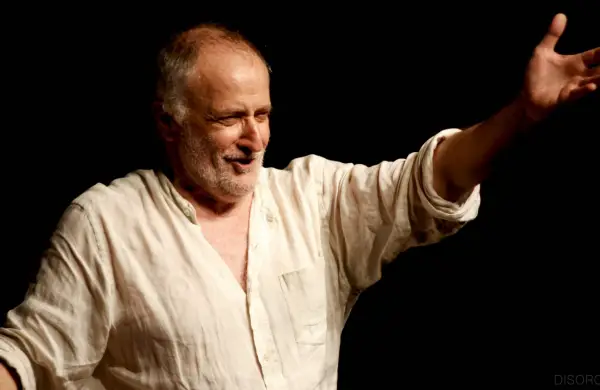 Starring and co-directed by the Emmy Award Winning actor and scholar Yannis Simonides, imagine my delight when he agreed to an interview!
Born in Constantinople, raised in Athens and educated at Yale in the United States, you are truly an international, Mr. Simonides…but where do you feel your roots really lie?
Absolutely and fully in Greece, on every rocky path I have traversed, in every harbour I have anchored in, every sprig of thyme I have inhaled, every amphitheatre I have been graced with, every modern Odysseus I have encountered
Whilst your tour a lot worldwide, have you ever spent an extended period of time living and working in Athens? What has been your experience?
I have and quite often, and now I have a pied-a-terre in Psyrri, facing the Rock, listening to bongos and santouri all night long, taking in the fantastic graffiti, agonizing with the rest of my compatriots, performing in English and Greek for my fellow citizens and the citizens of the world, this 69 year old wandering minstrel could not be happier and more privileged
You've been performing Socrates Now for 10 years. You must feel a personal connection to the philosopher by now. Do you feel yourself identifying with any of his character traits?
10 years, 18 countries, over 200,000 audiences – there is no way that one could attempt this pilgrimage without being fundamentally altered by the experience. My morality has evolved into simple ethics, my humor has gotten sharper yet gentler, my attitude more childlike, my wisdom more prudent, my joy in life more delicious, my peace with my mortality more genuine; though, unfortunately, my Socratic determination to change the world has gotten out of hand and something needs be done about it. Any ideas?
You've worked on many projects. Is this your favourite one? Why/why not?
Hands down. It is a life altering experience, for me and for all audiences, no matter what their color, persuasion, age or means. I'm just an inadequate steward of an enormous icon's legacy, this era's apologist of an infamous apologist, and it is a ride where I am barely holding on by the seat of my chiton. I have never been more terrified in my life, never have I experienced more intense joy, never have I laughed so hard at my presumptions and follies and never have I cried so loudly with the tragicomedy of the human condition. But ultimately, I have emerged wiser, happier, calmer, in awe of this privilege that has descended upon me.
You've performed Socrates Now already in Athens for three summers, 2015 will be the fourth.   What has been the public's response to the show?
After the delirious pronouncements above, need I answer this question? Close to 10,000 people from about 30 countries have stayed with me after the show and talked well into the night, when all the lights have been turned off, staff has gone home and only the night guards remain. The old gadfly is everybody's paradigm, and everybody wants to hang on by the old man's suspenders for a joy ride into a Disney world of ecstasy at the sight of nuggets of elusive truths
What sort of audience would Socrates Now appeal to?
To babushka clad young and old maidens in Dubai and London, Oxford and Cambridge dons and Yale /Harvard Hellas cognoscenti, Greek village fishermen and fishwives, schoolchildren from ten to eighteen years of wonder, jailbirds in Salonica and New York, knife and gun totting desperados in the outskirts of the planet's cities that have never seen theatre or have heard of the barefoot gadfly, you Rebecca and me Yannis and everybody under Apollo's light that craves for dignity and sanity, and redemption .
Follow this link here to Xpat Athens to check times for Socrates Now, and to book your tickets.
Thank you for your answers, Mr. Simonides and I wish you yet another successful run for Socrates Now.  May people come and learn.