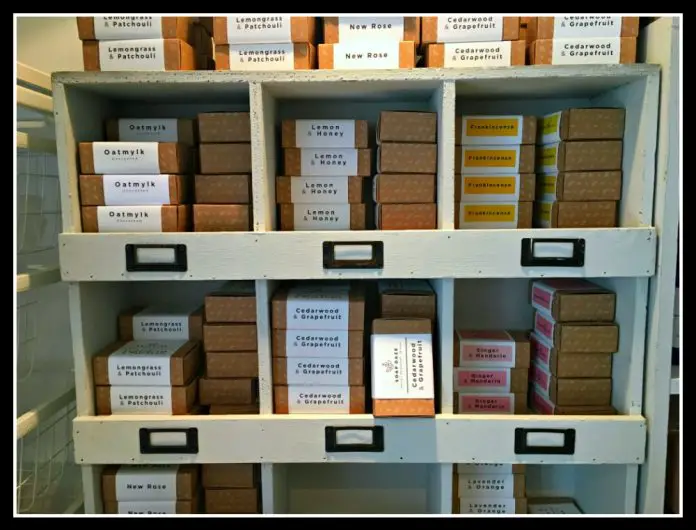 When travelling, it's great being able to write about destinations experienced and hotels and travel products trialed.  But what do you say when you get the opportunity to actually make your own travel product; travel soap?  Well, naturally I jumped at the chance when I discovered Soapdaze™ near my hometown in the UK.
What is Soapdaze?
As the lovely Sharon, the founder of Soapdaze maintains;
I run Soap Daze from a workshop in my garden, in Devon, UK.
My aim is to make wholesome, boutique quality skin care products that are honest, have simple ingredients, and are kind to your skin and the environment.
Using plant oils, botanicals, essential oils, herbs and spices, all Soap Daze products are 100% natural and preservative free.
All products are hand-crafted with love in small batches, or are made to order.
So she makes them in her workshop and sells at various craft fares, sells to local stockists and on etsy…but has also branched into offering mini-workshops for individuals or small groups, allowing people to make their own soap.  I was intrigued, so went along to make my own, knowing it'd be great to have some to take travelling.
A bit about Sharon
Soapdaze™ has been running for six years now, before which she worked for 15 years in a laboratory, testing water, so has always had a scientific background.
Since a teenager, Sharon was always dabbling in making things; from homemade beer and wine to creating her own darkroom to develop photographs.
After her career came to a close, she always wanted to be able to combine the scientific side of her with the creative, hence Soapdaze came into fruition.  Her science knowledge helps her understand the process of actually measuring the ingredients and how and why they do what they do, and as she's making gorgeous smelling soaps, there's your creative element to it.
Soapdaze workshop
Sharon's workshop is, indeed, in her garden.  A small garden house at the bottom of her garden to be exact, with a little black cat that occasionally stops by to sniff the scents permeating out of the sliding glass door.  And there are certainly gorgeous scents to be smelt!  It's hard to pin down exactly what they are because so many are on offer, but the culmination of them results in a Soapdaze workshop that's cozy and inviting.
Over a very British cup of tea and biscuits, we chat about how Sharon came to make soap (see above) and Sharon ran through the scientific side of actually making it, helping me to choose my base ingredients and which scents I wanted to combine, and between us we came up with an individual soap – especially for me!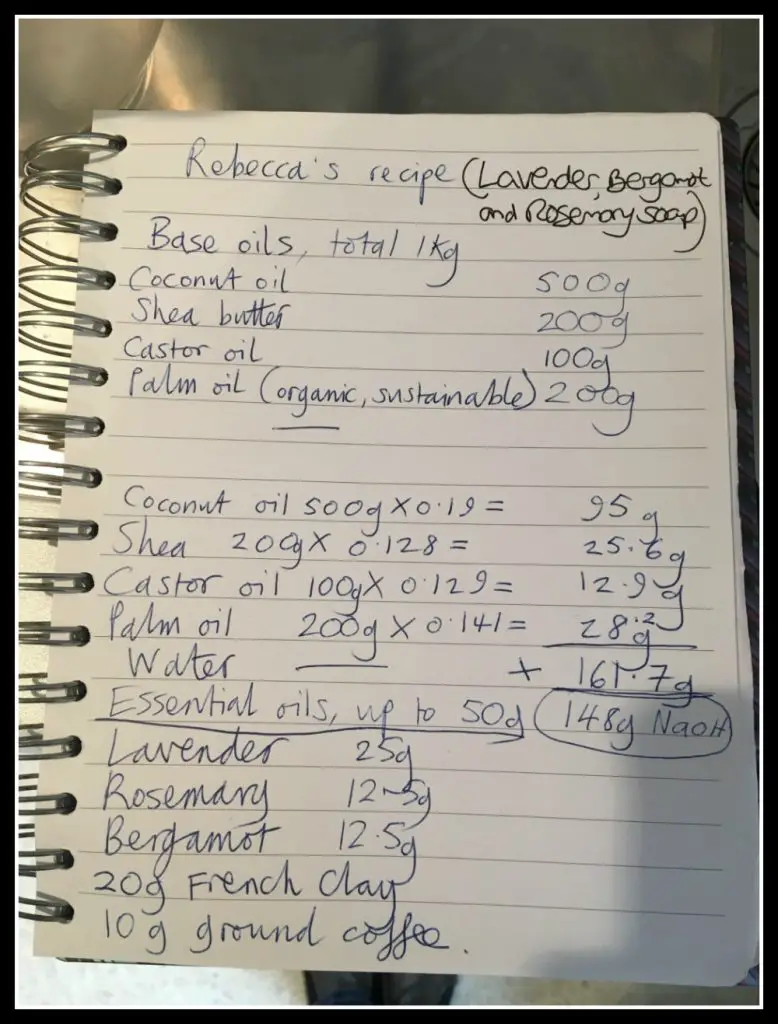 And so, after having decided on my base oils (Shea Butter, Coconut, Castor and Palm oil), which would make for an apparently very creamy and soft soap, then deciding my essential oils (Lavender, Bergamot and Rosemary), I also chose French Clay to add texture, and some ground coffee to gently exfoliate that cellulite away!
Now I was ready to start the process.
Making Soapdaze soaps
The process of making the soaps is pretty straightforward – see this little 'scientific' chart below which explains what actually happens (better than I can!)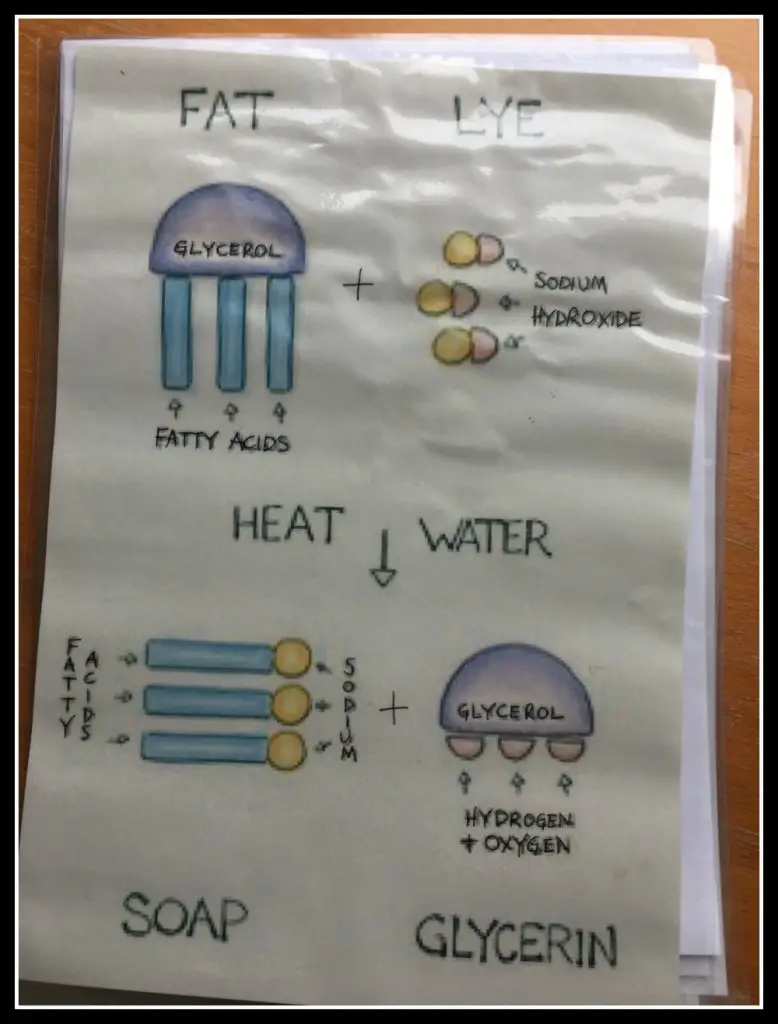 I measured out then melted my base, solid oils (Shea Butter, Coconut, Castor and Palm oil)
I measured out then added my liquid oils (Lavender, Bergamot and Rosemary)
Then the dangerous bit! I had to add Sodium Hydroxide to the mix, in order for it to turn into 'soap' (I am sure there is a much more scientific explanation, but that'll have to do for now).
This entailed me wearing gloves and a mask over my eyes…Sodium Hydroxide can burn the skin!
Then we measure out and add the French clay and ground coffee.
Pour into the mould – cover over (like a mini tomb!) and wait for it to set.
The setting process takes, apparently, up to four weeks…so don't expect to leave your workshop with your soap in hand.  But it's worth the wait!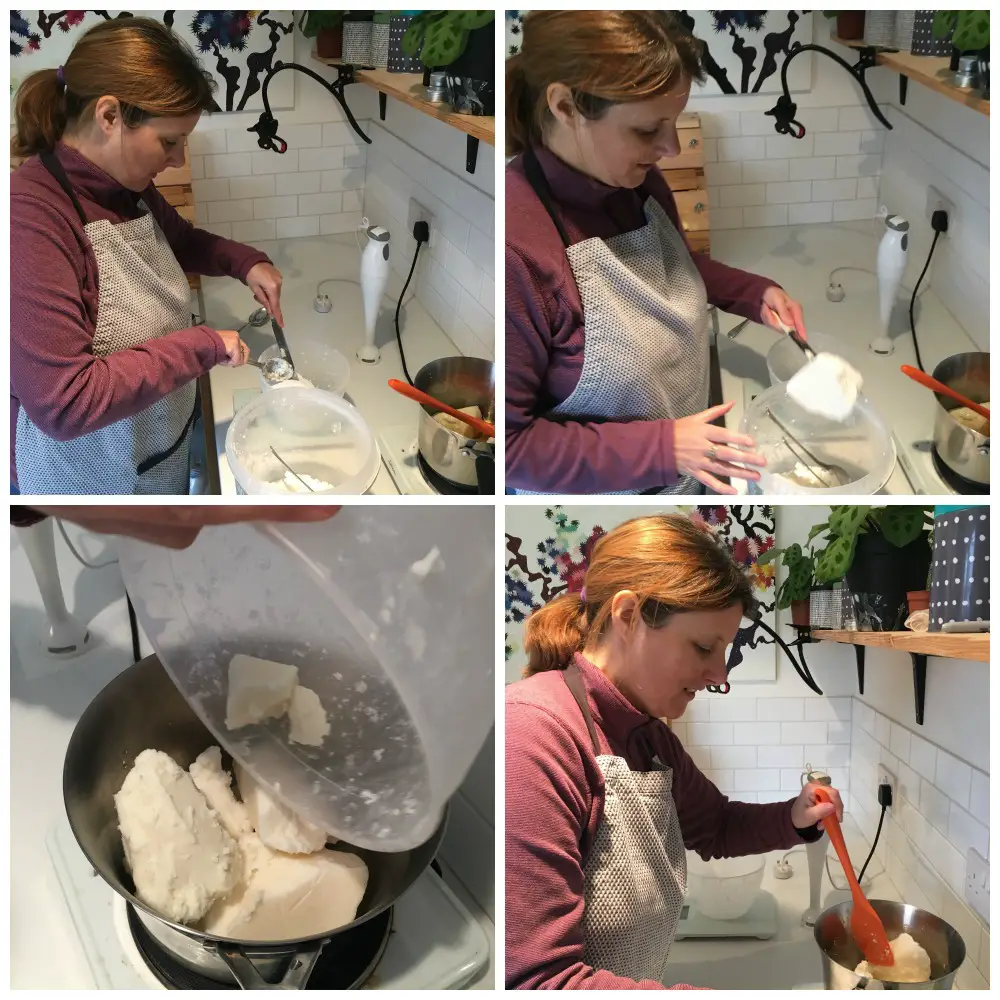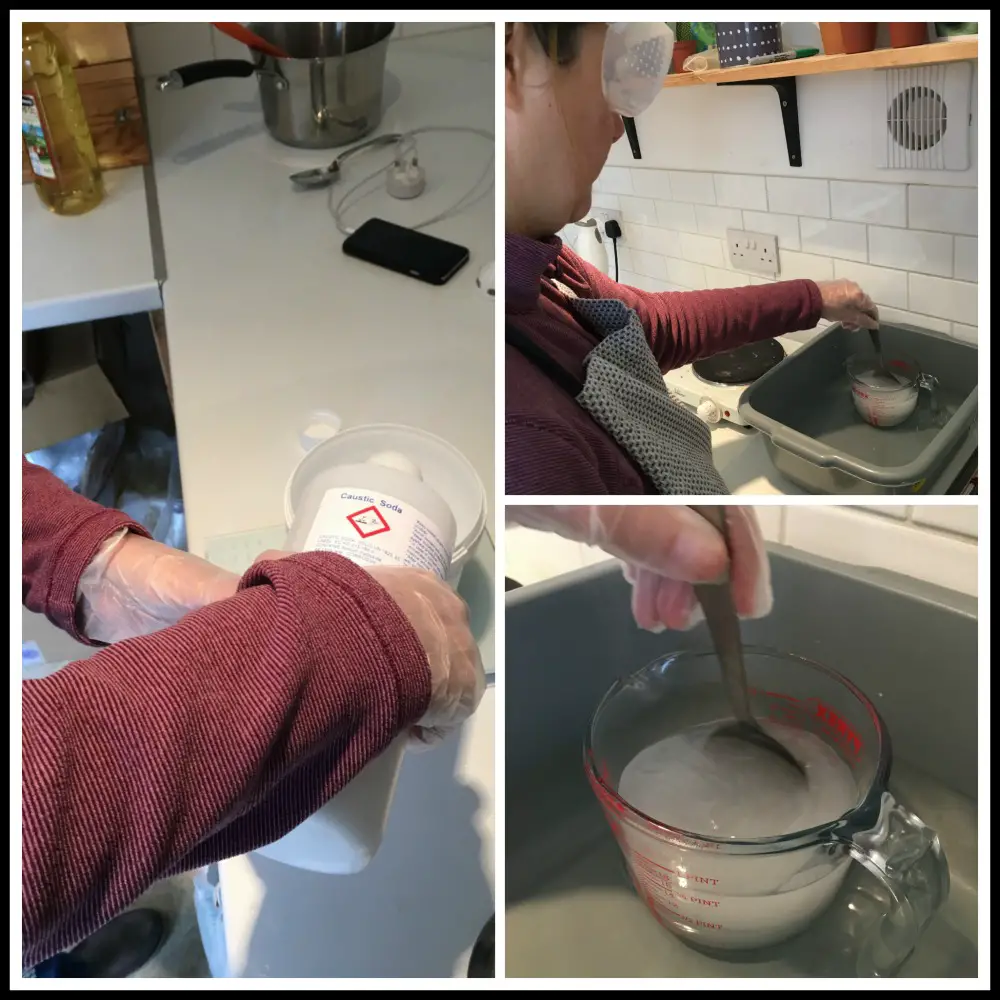 After another cup of tea and chat, plus a look at all of Sharon's other products and taking home a couple of them, I was excited – a couple of weeks later, to receive a photo from Sharon to say she'd taken my soap out of its 'tomb' (setting box) and here was the result!  She just needed to 'let it air' for a couple of more weeks, then could send it to me.
I have to say, I am VERY pleased with my first attempt of soap making – what do you think?
I think it looks like fudge! I'm looking forward to receiving it then using it.
Soapdaze workshop facts and conclusion
Workshops take about 1.5-2 hours, depending on the quantity of soap you want to make
A workshop costs £50 to make 1.4kg of soap (that's roughly 14 soaps)
It costs £80 to make 2.8kg of soap (roughly 38 soaps)
All products are vegan based
Is it worth it?  It's a fun activity to undertake when you're in this neck of the woods (the southwest of the UK, in Devon) and could be a nice gift for yourself and/or friends and relatives.  And the soaps themselves smell delicious.  There's something really satisfying, knowing you've been the one to make something from scratch.
Pin for later