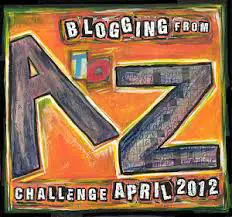 My very first post for the 2012 A-Z Blogging  Challenge was about Athens and why I choose to live here, not just Athens, but Greece.
You see, as my "I" post indicated, Greece has been receiving a lot of negative press.  Yes, Greece has been going through really bad times, but you know what?  The quality of life here still rivals that of Northern Europe.
Talking to my Greek friends, we all realise that people still talk to each other on public transport, young people are still polite to the elderly and the elderly aren't afraid of young people.  Athens is a busy city, but it's NOT rush rush rush, not in comparison to London.  I can STILL exit my apartment and be greeted with a 'Kali Mera!' by strangers.
Food
This is a major difference in Greece too.  It's a way of life, not just a means to sate the appetite.  A meal can take anything from 3 – 4 hours, even at a friend's house (be prepared for a long evening, even if just popping by for pasta).  And the restaurants are not in a hurry to turf you out once you've finished.
This applies to coffee drinking too.
People in the UK who are ignorant of such issues often comment to me "Well no WONDER the Greeks are bankrupt if they spend all their money on coffees!"  Check out the Comments section to my post about coffee culture in Greece (and I will write another post about this soon).  You'll see really useful feedback as to how we spend about 3 hours over one coffee, thus not actually spending a lot of money (notice how I refer to myself as 'we' – I am truly embracing myself as a Greek, albeit an adopted one).  Also, what would you rather see: Greeks sitting around chatting merrily over coffee, or Brits and Germans staggering around, drunk as anything and spoiling for a fight?
 In Greece they know how to LIVE life…without having to get drunk to let go.
In spite of (or maybe because of) Greece's difficulties, it serves to bind a nation and people always make do… Greece has been through hell in the past and has survived.  There is almost a fatalistic attitude to life which I find I fit into quite nicely – so I think I'll stay for the time being thanks.  I've learned to take one day at a time, to talk to my neighbours (and strangers), to acknowledge that old lady sitting next to me on the bus or trolley – oh, and to love the fact it's sunny 90% of the year.  Where would you rather be?  The rigidity of 9-5 Mon to Fri is not for me…I'm happiest teaching and writing in the sun, with people around who look out for me.