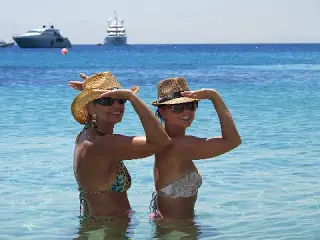 As regular followers of my blog know, I like to try to get people to contribute their own tales and pictures about Greece.  Here, Christy O'Brien from Missouri, USA who is a regular follower shares her recent holiday with us:
Christy, thanks for agreeing to this interview.  You came on holiday to Greece with 5 others. Where did you go?
I arrived in Santorini 4 days earlier than my daughter and a group of 4 girlfriends who had never been to Greece before. I stayed a total of 10 days in Santorini and they stayed 6 of them with me,then we ferried to Mykonos for 3 days before flying on to Athens for a one night stay before departing with Key Tours (via the Corinth Canal & a visit to Mycenae) to arrive at Nafplio. We stayed 2 nights in Nafplio and then returned to Athens with a visit to Epidarus on the way back. We still had 3 more nights in Athens before we flew back to the US.
Wow, that's some itinerary! Have you been here before?
It was my 5th trip to Greece since 2000, my daughter's 3rd trip but the first for my other 4 friends.
What is it that you liked most about Greece & why return here for a holiday?
Ever since my first visit to Greece in 2000, I have been haunted to return, but haunted in a good way…the pull to return is relentless! Though I have visited Italy on a short visit before continuing onto Greece some years ago, I am more drawn to Greece. I feel completely safe, even in Athens (and even this year) plus where else can I have my Greek yogurt smothered in honey for breakfast, Aegean blue water for swimming at lunch, and saganaki, squid & a Greek salad loaded with feta for dinner every day?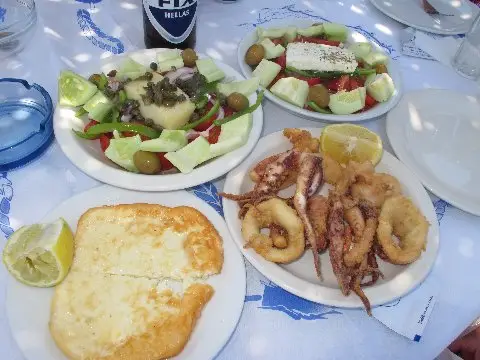 In addition I love the style of Greek clothing designers and jewelry artisans, having worked in an American Craft store for more than 14 years. When I go to Greece I want to buy Greek crafted items, and my suitcase is always at the limit coming back plus I usually mail home a box before I leave! But I guess the biggest pull is to visit the friends I have made there over the years, the shop owners, the taverna owners, the hotel owners and even a little elderly Greek woman in Mykonos I befriended back in 2008 just because I had taken a photo of her leaning over her balcony from a second floor pasta restaurant where I was having dinner! This year I surprised her with a apron my mother had made and one of the pasta restaurant waiters (at Pasta Freska) help me translate to her why I keep visiting her on my trips and bringing her "duros" or gifts…just because she looks like a sweet yia yia!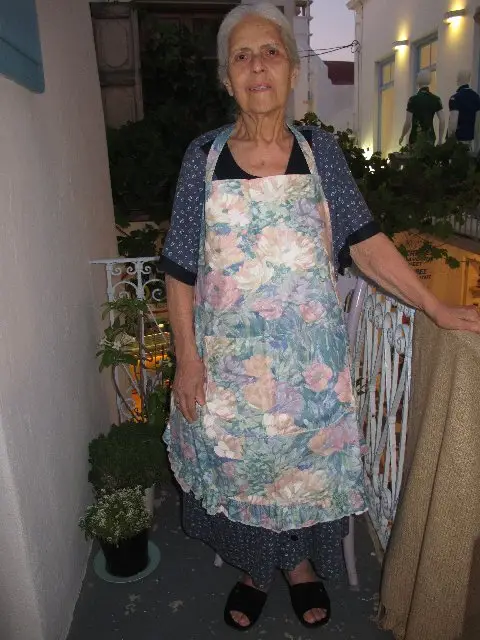 Did you find the people warm/hospitable/stand offish?
In any country you may find people who are stand offish but I steer clear of them if their mood lingers. One reason   that I return to Greece again and again is to connect with the people I have met that live or work there, be that hotel owners/staff (especially all the family/staff & Elsa their doggie at Matina Hotel, in Kamari Beach Santorni), shop owners/employees (like Shirley at Allure Jewelry in Mykonos Town), favorite taverna personalities (like owner Kostas at Naoussa in Fira, Santorini) and the likes of the little old lady (Poppi) I mentioned earlier who lives above some shops in Mykonos Town. This connection completes my trip and I always learn more about an island or the country this way. I also look forward to meeting new friends and having new experiences with their friendship…as I am always asking questions to learn answers!
Another draw to Greece, as mentioned, is their handcrafted clothing and jewelry.
I am particularly fond of the flowy designs of Greek designer Ioanna Kourbela and I just discovered this year the funky, fun, whimsical creations of Heel.Two very different clothing designers but I seek them out where ever I am in Greece, and love wearing them at home in St. Louis, Missouri. The jewelry designs of Eleftheriou are my favorite and it's a fun hunt to find her collections in Santorini, Mykonos and the Plaka! I have worked at an  American Craft Store in St.Louis for 14 years so the fine quality and craftsmanship of artisans and designers in Greece is very noticeable & appreciated by me.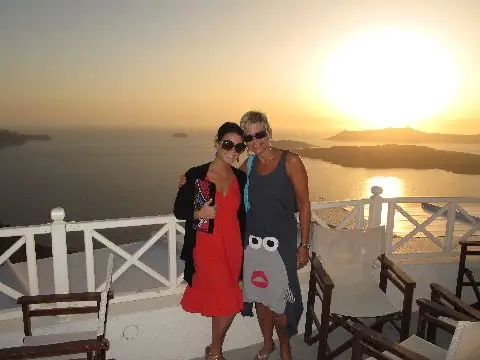 On the topic of places to avoid, I would like to mention Omonia Square. Now, my daughter and I are big fans of Hondos Center there and my daughter can spend hours in their cosmetic department. But returning from Nafplio this trip, we cruised by Omonia Square to turn on Athinas to our hotel at Attalos down the way to Monastriki and I have to say (and my daughter agreed with me)…we needed to skip that area this visit because many stores were closed, making it appear more depressing than maybe it was…but it did look pretty rough so we decided why take a chance. We got our fix at little Hondos Center on Ermou but will try next visit to hit the BIG one at Omonia if the location looks more inviting.
Speaking of "inviting", we walked all around near Syntagma Square, Zappion, Olympic Stadium, etc…everything was calm, so at present…don't avoid these places…GO!
We even did a day trip on the tram to Kalamaki beach on a Saturday. Busiest beach we visited the whole trip but that made it interesting to watch A LOT of people, families, paddleball pros and I even had an opportunity to have my photo taken with a Boa Constrictor…can't do that on just any beach!
On the subject of increased poverty, I was expecting to see more than I actually did. I did see small children here and there sitting on the street or curb, playing instruments for coins. I saw some beggers along Ermou but not many and on our last day, my daughter and I gifted one of them with a big bag of fruit which he happily took from us which kind of made our day. Help where you can please.
What is it about Greece that attracts you and how easy was it to persuade 5 of your friends/family to come?
Adventures, Yogurt, Ruins, Honey, Beaches, People, Squid, Shopping, Saganaki and the blue-ist Aegean waters to lose yourself in!
My friends have seen my mega-size albums of photos from years of visiting and they wanted to be in those photos for a once-in-a-lifetime trip and I hope I proved to be a good guide. I think thephoto of us on the good ship "Eleftheria" (which means FREEDOM in Greek) shows our exuberance on the 4th of July (our Independence Day in the US) and the fun we had throughout the trip.
Do you notice a big difference in what your media is reporting about Greece and the actual reality? If so, what specifically?
Prior to my visit this year I kept my eye on your blog and a couple of others,
plus I kept in contact with friends on the islands and based in Athens to get the "real" scoop on events. Once I arrived in Greece I also conversed with fellow travelers to find out their opinions on Athens mainly, and got pretty positive responses so my spirits were lifted and I was not disappointed when we finally arrived in Athens and had many wonderful experiences in and about the city…plus the advantage of fewer crowds, better pricing on items, lower exchange rates, shop owners happy to see you (lots of 10% or more discounts), etc. Just steer clear of Omonia Square would be my advise and keep an eye on your personal effects but that goes without saying anywhere.
Thanks so much for coming to this beautiful country. Do you plan to come again?
You bettcha! I just had a pow wow with a high school girlfriend of mine yesterday.
Appears a few other high school gals have seen some of my 3200 photos I took this year on my 3 week "Greekster" adventure and they may be interested in my next target date of June 2014. Now the problem is to convince my hubby that I must go again. He is not a walker and my trips involve walking (no taxis unless really necessary) so he declines though I'd still love to get him over there. I do turn 60 in 2014 so that may be a bargaining tool! Until then I plan and plan. So do yourself a favor, put yourself in one of my photos…just go, do it…find your OPA!
Any final tips?  To beat the heat in Greece, I found out that an item sold at some sport stores, called Frogg toggs Super Cooling Towel, is excellent to help keep your cool in Greece (and any other hot tempered country). I bought one in blue (of course) and divided it into 6 strips for each of my group and we wore them around our necks and it tested extremely well. We always carried water so we could easily recharge the "cooling" strip. Another plus, the strips inspired conversation with other travelers and local alike, wondering why we wore them…were we a "gang", was there "symbolism" in the strip or color? (very funny)
That sounds like a great idea!  I'll get in touch with you to get some more info about them!
Christy's advice for first time visitors to Athens.
I know you will want to visit the Acropolis Museum and the Parthenon during your stay. May I suggest visiting the Acropolis Museum first, early in the morning before tours clog entry and don't miss the video on the 3rd floor about the Parthenon.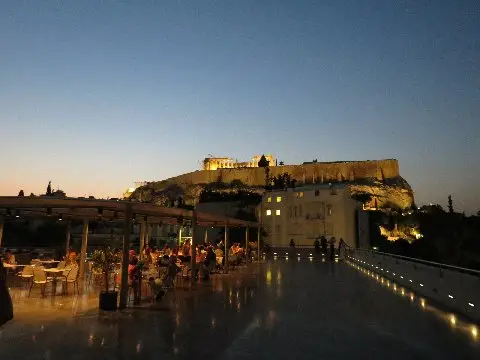 It will give you a real nice "visual" of the original Parthenon's appearance…then go atop the "Rock" to view the Parthenon after 5pm (summertime) when virtually all the tourists are gone. Keep in mind, during the summer months, the Acropolis Museum stays open until 10pm on Friday nights with the cafe staying open until midnight. An orchestra was playing at the entrance the Friday night we attended and it was pretty special viewing the lighted Acropolis above and listening to live music under the stars!
And one last tip for the end of your journey…male or female, try a visit to a Fish spa and give your feet a treat.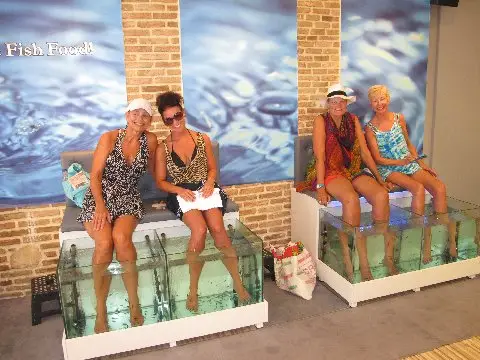 They deserve it! We did in Athens on Adrianou St. in the Plaka near (Monastiriki end) and I will do it again at the end of each visit, my feet loved me for the pampering!
A HUGE thank you to Christy O'Brien for taking the time and effort to answer my questions and for sharing her wonderful experiences and pictures.