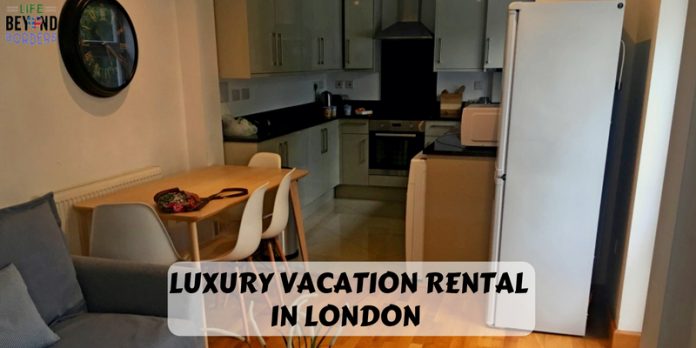 I'd already stayed in a luxury vacation rental in London before with FG Properties.   They offer a range of apartments to suit all requirements.  Whether you're visiting London (or Paris) for vacation, or even business, and are looking for an alternative to staying in a hotel, then look no further than FG Properties.  I was hosted by the company for two out of my three night stay – despite this, all thoughts and opinions remain my own.
** This post includes Affiliate Links. This means that if you choose to purchase anything after clicking the links, I will earn a small amount of commission. This is at no extra cost to you and helps keep the site running**
Partnership
In London, FG Properties partners with Management Company City Relay.  In fact, you visit the City Relay office in Earls Court to collect your keys (if no-one's at the property to meet you), you can leave your luggage in their office after check out rather than lug it around London all day. They are the first point of call should any issues (unlikely) arise with your property.
Point to note: FG Properties also list their properties through AirBNB and City Relay advertise themselves as:
A LOCAL CITY FRONT DESK FOR YOUR AIRBNB.
In short, they offer a Management Service for your property if you rent it through AirBNB.
My Luxury Vacation Rental in London
The purpose of my trip to London was a mixture of both business and pleasure.  On a warm August Bank Holiday weekend in 2017, I stepped on the train at Paddington station and made my way to my two bedroomed apartment. My specific apartment – located in the London borough of Hammersmith and Fulham – didn't need keys. There was an electronic keypad to gain entry both to the main front door and then the door to your specific apartment, with two separate codes.  This is useful because every time a guest leaves, then a new code is assigned.  It means it's safe as you know no-one might have made copies of keys as no keys are involved.
Mirabel Road
After having phoned City Relay and having been given my code, I easily found my two bedroomed ground floor apartment in central London – literally a 15 min walk (with bags) from Fulham Broadway station.
What I neglected to remember was it was the last Bank Holiday weekend of the summer means it's the Notting Hill Carnival in London, so it's a busy time!  I arrived and the poor girl was still cleaning the place as she'd been stuck in traffic (a LOT more than usual), so no problems, I left my bags and went to get some lunch in the local area.
Back at Mirabel Road and I settle in.  As it's a beautiful sunny day and warm (yes, warm in London!) I make myself a good British cup of tea and sit myself in the lovely back yard…a great place to relax and make the most of the sun.  Of course, I can't resist logging on and posting some Instagram images.  All FG Properties come with good wi-fi, which made my stay even more seamless as I did have some work to be getting on with.
My Mirabel Road Residence had two bedrooms, the front room looked like it would have originally been a living room, but it's been converted into a bedroom in order to gain more revenue I guess.
I chose the back bedroom, overlooking the yard:
Because the view was nicer
It was quieter and darker, not overlooking the main street
This meant that the kitchen/dining/TV area was combined at the rear of the property – effectively in what looked like a well built extension, with access to the yard.  It worked well.  See the images below. It's a slideshow, so don't forget to flick through!
Pro's
The great thing for me about staying in an FG Properties Luxury Vacation Rental in London is that I didn't have to worry about getting up in the morning at a certain time and get dressed to make it in time for breakfast.  I could just roll out of bed and stick my porridge in the microwave.
Great Wi-Fi
Well located to an Underground station and bus routes
Well located to shops and cafes/restaurants
Even though in central London, very quiet location
Fully equipped kitchen with washing machine and dishwasher
Comfortable bedding, linen and large towels (not those silly small ones that never dry you or cover you!)
Toiletries such as shower gel and shampoo
Complimentary tea, coffee, sugar and popcorn
I love staying in hotels, but it's good to be independent and self-cater from time to time. I'd highly recommend it for families as it's a much cheaper option.  For example, depending on the time of year you book, this apartment lets for £79 per night.
What's your experience been of a luxury-self catered stay in London? Do share below in the Comments.
How about a trip outside of London for the day? A wander around the city of Bristol in the West Country is doable in a day from London, and also makes a perfect weekend stopover.
Luxury London – PIN for later