I've known Tony Kavalieros for a while now, ever since I became good friends with his daughter Alex, whom I met through work about a year ago. But I always just knew him as 'Alex's dad'; I never paid much attention to his line of work. I knew he was 'into cooking', but that was about it. It was when I was invited to the launch of his new recipe book on Monday, 17th January 2011 at his book store, "Chef in Love" in Em. Benaki Street, central Athens that I started to understand more about his career.
The book launch was a great success and many people attended the signing, met fellow professionals in the field and generally had a good time (see photos). Afterwards a few of us went for a meal, including my friend Alex & her dad.
Upon turning my nose up slightly at the risotto I was served, Tony invited me to dinner on Sunday 23rd January at his Seminar School in Ambelokapi, "to experience how risotto should really taste." It was then that I decided to take the opportunity to discover more about Tony Kavalieros and what makes his Seminar School and Bookshop so popular: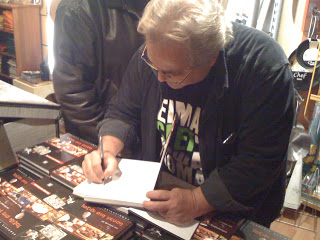 Book signing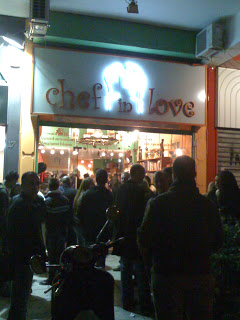 The bookstore – venue of the book launch
So Tony, thanks for offering to improve my pallet for Risotto.  What exactly are we having today?
Risotto Porcini – that's Mushroom Risotto to you (he winks) and a Beetroot & Potato Salad.
(Tony gets a momentary look of discomfort on his face).
Are you going to write that down?

 

Professionals will criticise the fact I am serving Risotto with potato salad, too many carbohydrates.
Don't worry, I'm sure they'll understand this is an 'informal' meal and also that it's because your daughter loves beetroot & potato salad – look at her!
(Said daughter, Alex, stops mid-pick at the salad she's helping to prepare).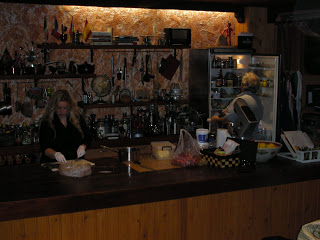 Preparing a delicious lunch!
So what do you want to ask me anyway?
Ok, well, I am intrigued, first of all, as to what compelled you to write your recipe book.
The book title, roughly translated into English, is "A Journey into the World of Taste" and is not just a Greek recipe book; it spans 22 countries with 112 different savoury dishes.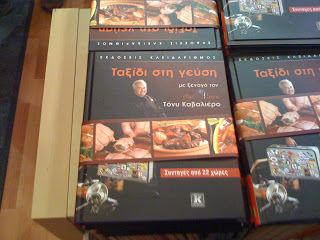 Tony's book



And why world cooking?
(At this point, Tony becomes quite passionate and I worriedly observe him very quickly chopping garlic with an extremely sharp knife – but I need not worry, he's a professional after all and can multitask)
You can tell SO MUCH about the history and the civilization of a country through its food and recipes.

 

For example, if a recipe is long, then you know that country preserves family values but if a country has mainly quick recipes to hand, you know their particular culture is a very fast moving one – like the U.S., and where you're from (he points previously mentioned knife at me), the U.K.

 
Also, weather impacts on the food of a country: cold climates use a lot of fatty meats such as pork and closed fireplaces to prepare the dishes, whereas hot countries like South Africa (where Tony spent a lot of his childhood) can prepare their food on open fires.

 

And think about it – which countries have the spiciest foods?

 

Again, mostly hot climate regions such as India and Sri Lanka.

 

Spicy food makes you sweat, thus helping the body to cool down.
(Tony continues on with how much you can learn about a country through its food – this time taking a different tact).
On the theme of civilization, I'll give you an example:

 

the Spaniards and the Portuguese were great conquerors' in history and today they use a lot of spices in their cooking.

 

Therefore, they adopted this influence into their own culture.
On the other hand, look at the British; they were only really interested in INVADING.

   

They haven't utilised, into their own gastronomy, the food influences of the countries they invaded.
(I ponder this for a moment and conclude he has a point: I can't really think of any British dish that has a foreign influence.
Plenty of foreign dishes, yes, but no real foreign influence in British cooking).
Having said that
(concludes Tony)
,
two chefs that I am impressed with in the UK are Jamie Oliver and Rick Stein.

 

Both of them have attempted to use BRITISH products in their dishes, promoting British agriculture thus keeping British products alive.
(So far I am impressed that Tony has not merely suggested that he 'likes cooking', so why not write a book.
He's clearly passionate about what he cooks and chose to publish a book on World Cuisine for good reasons: his passion for discovering more about civilisation, the history and culture through the food of a country).
Ok, moving on – I attended the book launch at the bookstore "Chef in Love" last Monday (17th Jan 2011).

 

Everybody had a good time and the speech you gave (from what I could understand), was well received.

 

But who was this lady Poppy you referred to when you were giving your thanks? In fact, the first person you thanked?
(Tony laughs heartily)
Poppy!

 

I couldn't FUNCTION without Poppy!

 

She's my cleaner at this SeminarSchool and the Bookshop.

 

THAT'S why she was the first one I thanked.

 

Without her, I would be all over the place.



(I cannot help but be impressed with a person who takes the time to recognise his cleaner as the main person that helps him to function).
I remember Poppy, she was the embarrassed lady who nearly died when everyone started cheering and clapping and looking at her!
Yes, she's been with me at the Book Shop for about 8 years and the SeminarSchool for about 5.
So tell me about your SeminarSchool.
It functions as my office and is the place where photo shoots take place for any Greek trade magazine articles that are featuring me, or Greek newspapers.
 




 (Tony's
Seminar
School
consists of a big kitchen front, with rows of desks and chairs facing the kitchen).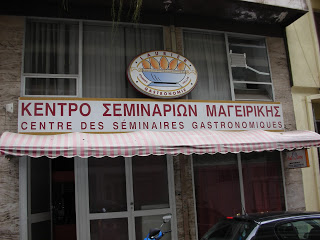 Seminar School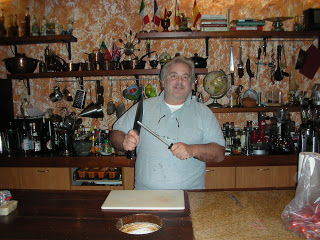 Right where he's at home – in the kitchen of the Seminar School
TV crews sometimes come here and film, when I am asked to partake in an interview about gastronomy, or morning cookery shows.
I also run basic seminars – from how to use kitchen knives to filleting a fish and on Wednesday's and Thursday's, it's open to the public from 7pm when I run food seminars.
I have also been known, for people requiring my expertise, to run private seminars for groups of 2 – 10 people, or more if required.
For example, next week (week commencing 24th January) I am running 2 seminars for Makro – a Greek wholesale food company – to prepare them for the HoReCa Culinary Exhibition the following week.
(thinks for a moment)
Oh yes!

 

On Friday I am going to the Monastery of the Holy Trinity in Neo Voutsa.
I go there whenever I have some free time to help prepare meals for the orphans there.
(Seriously, is there no end to this man's humbleness?!
He thanks his cleaner first and foremost, he cooks for the orphans, what else?)
I know everyone probably asks this, but I'd genuinely like to know why you decided to become a chef.
(No hesitations in answering this one).
I knew when I was six years old and used to visit my Grandfather in Egypt and watch him prepare food, as well as my mother
(Tony's ran a very successful French restaurant called 'Union' in
Cairo
).
I went to culinary school in South Africa when I was 17 years old, then undertook a 2 year apprenticeship at the President Hotel and continued on to work in various establishments, for 20 years, working as a chef.
I came to Greece in 1994 and started my own catering business, opened my own restaurant in Glyfada and now concentrate on my consultancy business, the bookstore – which is the only one in Greece specialising in books and products such as knives and chef apparel for the trade – and the SeminarSchool.
We decide to call it a day as the risotto is ready and has to be served immediately (apparently), not to mention the delicious beetroot and potato salad!
I'm pleased I have taken the time to get to know Tony Kavalieros a little better, and to sample his delicious dishes!
For more information about the Bookstore and the seminars, visit
www.chefinlove.gr
Private seminars for groups of people can be arranged, if required and Tony speaks Greek and English fluently.
His book – "A Journey into the World of Taste" is published in Greek and will possibly be translated into English too.  It can be purchased from his bookstore.