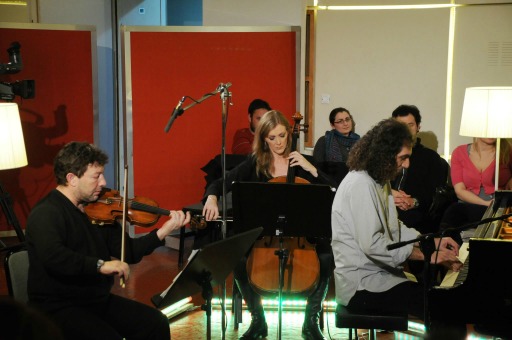 Today I have the pleasure of interviewing Susan Norton-Vakondiou, lover of Athens, cellist and who will be performing at the Opening Party of Artlinks on Friday, 17th October 2014 at 21:15.  Interview conducted by email.
Susan, you're British. How did you end up in Athens, and when?
I auditioned for the Camerata orchestra of Athens in 1992, the resident orchestra of the Megaron Musicis whilst living in London. I was offered the job and decided to move here for a year. Many years later I am still here!
When did you start playing the cello, and is this your main occupation?
I started to learn the 'cello when I was 8 years old. I discovered the joy of music and performing very early on and it was an easy decision to choose music as a career path. It has been an adventurous and enjoyable road but I have been lucky. I freelanced as a 'cellist in London before becoming a permanent member of the Camerata orchestra. I left the orchestra 3 years go to become the junior school music specialist at Campion school here in Athens. I am constantly fascinated by the way young children intuitively perform and react to musical stimuli. My 'cello playing has subsequently taken a different curve and I perform either on my own or with small ensembles. Since leaving Camerata, I have performed in Italy, Athens and around Greece.
Do you perform elsewhere in Athens and/or Greece/internationally?  Tell us a little more about that.
From an early age in the Northamptonshire Youth Orchestra I was 'on the road.' We travelled regularly to Germany to perform in competitions. Whilst studying at the Royal Academy of music I travelled within Europe for concerts. Since arriving in Athens I have travelled extensively throughout Europe and Asia with Camerata, performing in amazing world class venues and concert halls. My musical travels have become less far and less frequent these days; Italy and Greece, but I am about to start 2 new projects which should take me around Europe again.
What does it mean to you to live in Athens, Greece, to be an honorary Greek?
I love living in this country of beautiful light, vast richness of nature and landscape and natural beauty. I love the mountains and the sea, and I love the fact that you can ski one day and spend the same evening next to the sea eating fresh seafood (as I have done!). I do not feel Greek but I have definitely adopted some Greek mannerisms!
And Artlinks—what can we expect from your performance?
I will play a selection of solo pieces-from J.S.Bach. Max Reger and other solo 'cello excerpts. I am looking forward to this event. It is a wonderful concept, to link together so many different forms of Art, and I think the organisers should get a huge round of applause for their effort, especially Sia.
It was a pleasure to meet you Susan. I'll look forward to chatting again and seeing you perform!