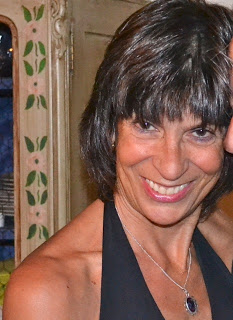 Greece – A Love Story is an anthology, a collection of stories by female writers about their experiences in Greece. From love to loss, Greece is a country that grabs you in her tentacles and pulls you in, weaving her magic spell over you. Camille Cusumano is the editor of several Anthologies before this one: France, A Love Story, Italy, A Love Story and Mexico, A Love Story, Tango, An Argentinean Love Story, all published by Seal Press.  As a Greekophile and having read a copy, I jumped at her offer of an interview.
Review copy provided free of charge
Camille, it is obvious to anyone from reading the Introduction to "Greece, A Love Story" that you hold a special place in your heart for this country.
How did you source the authors/contributors for this anthology?
Greece was the fourth book in a series of literary anthologies that I edited for Seal Press. Each time, for each book, a call would go out to writers everywhere – usually electronically. Stories would pour in. It was a difficult decision to pick and choose. There were so many good personal stories
Did you have any particular style in mind when researching stories for this theme?
Yes, I feel that a great travel story has to go beyond the cliché images and the stereotypes. It also has to have a strong grounding in the personal experience. That experience must be tied to the place. Something in the story must say "this could only happen here"—in Greece, or wherever.
Many of these women seemed to undergo life changing experiences in Greece (Amanda Castleman's "At the Seashore with Medea" chronicles her experience of marriage and divorce to a Greek man).
Did any one story resonate with you personally?
I loved Amanda's story as much for her writing style as for the story itself—of transformation. I also loved the story of the shadowy character in Cynthia Greenberg's Vespa '73, the funny unexpected twist in Sarah Woster's Dodge-ems, and the doomed character in Sarah McCormic's Kostas and the Deep Sea. Each story integrated the culture creatively.
You say, "I thought I had been there, [Greece], had experienced the culture-until I had the pleasure of working with these stories. Now I know better. With each story I am carried back there…"
Do you have a particular story to relate about Greece?
Not really. I hate to admit to this, but I skipped seeing the Acropolis because I couldn't tolerate the noise and air pollution of Athens back then. I had to escape to an isle and I don't regret it. Some day I'll return and see that crumbling monument. But I also enjoyed reading about it in the Greece stories.
Finally, you must be aware of the negative press regarding Greece of late. My followers are a pretty open minded bunch and a lot of them hail from the U.S.
Is there anything you'd like to say: words of encouragement, what to look out for?
I would say to look out for the same things today that one had to look out for yesterday before Greece's financial crisis. Travelers don't have the same obstacles as the people who live in a country. Continuing to visit Greece is good for the Greeks, good for the savvy traveler. I lived in Argentina for nearly four years – while they were recovering from a serious financial crisis. It was fine and wonderful. The practice of the rich getting richer while the poor get poorer has been going on for a long time and will continue. So travelers may as well continue to travel and make the most of their journey for themselves and for the people they visit.
Many thanks for taking the time to be interviewed, Camille. I look forward to your next anthology.