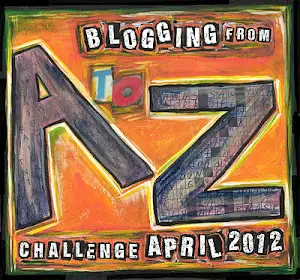 OK, it's one minute past midnight in my neck of the woods, so here's "D's" posting:
Why 'duh'?
Well, a lot of people comment to me "Duh!
You're from England, and you choose to be in GREECE?" (you'd have to have been living in a cave for the last year or so to not hear what's been going on in Greece).
To which I reply "Duh!
Live in England compared to Greece?" i.e. for me, there IS no comparison.
Yes, Greece frustrates me just as much as draws me in, but as my posts will hopefully show throughout this challenge (and any of my other posts), you'll see Greece has a way of enduring the person to her: the quality of life and most of all, the SUNSHINE all contribute to making this a better way of life overall, despite her issues.
Also the fact that youngsters on a Friday or Saturday night don't go and get rip roaring drunk for the hell of it.
Maybe that's why other countries are jealous of Greece.
Stay tuned to this A-Z Challenge as I hope to write more about the culture of Greece and her people.
Thanks for following so far.