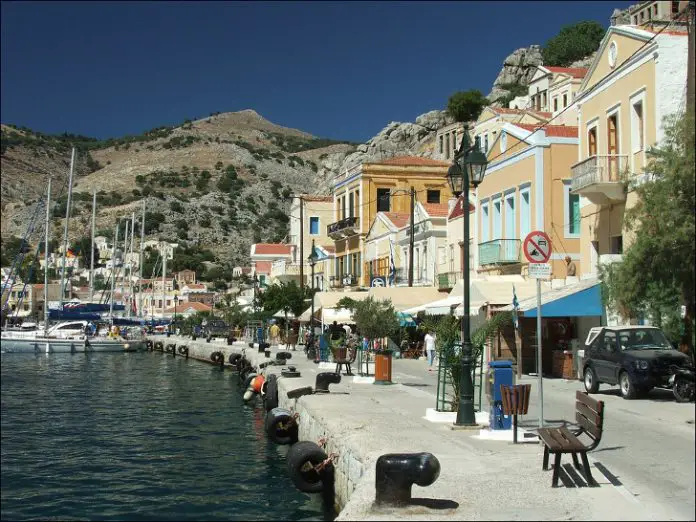 Review copy of book provided free of charge by author.

---

What is it about Greece?
Fans of my site will have heard me asking this question and attempting to answer it here.  Well, James Collins – British screenwriter and resident of the Greek island of Symi – attempts to answer it too.
I interviewed James here about the film he scripted and shot on the island ""The Judas Curse."   He kindly let me read his copy of Carry on up the Kali Strata. Was it James's attempt to script a new Carry On movie?
No.
You see, James has been bitten by the 'Greek bug' too – he loves this country as much as I do. More specifically, he loves Symi – an island in the Southern Dodecanese, north of Rhodes and close to the coast of south-west Turkey.  His site, Symi Dream will give you great insight into the island.
So, what is it about Symi?
The people who greet you every morning?
The Filoxenia of the locals? (literally "friendly to foreigners")?
The scenery, slow pace of life, how life on a small Greek island teaches you to shrug your shoulders and go with it (tomorrow is another day, after all)?
Read Carry on up the Kali Strata to find out.  Lovers of Greece, the Greek way of life and people who already live here will find themselves nodding along in agreement.
James takes us for a stroll around the island, making observations about all and sundry (tourists who think they know  more than the locals, or how about a Greek christening anyone?  And are you popping over to Rhodes, then can you collect a wardrobe for me and bring it back?)
Oh, and you'll also discover what and where the Kali Strata is.
I loved this book!  It's so, well, Greek.
James, thanks for an excellently observed and astute read.  Now then, before you get angry with me, I'm off to buy a Greek grammar book.
Featured picture courtesy of: http://www.symidream.com