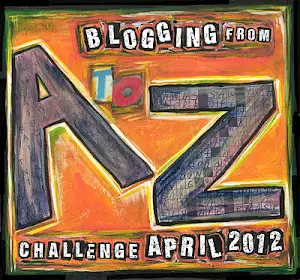 So!
This is the first of my posts for the 2012
A-Z Blogging Challenge
for the month of April.
For those regular followers of my blog, you'll know that I write about my time in Greece (despite the Leaving Cairo title, I left Cairo to come to Greece – more about that in a later post, I promise).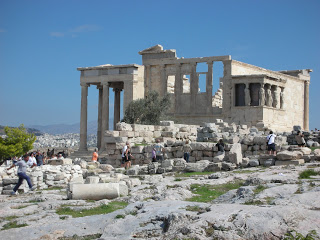 As I live and work in Athens, what better place to start with the beginning of the alphabet?
Athens: home to over 6 million people, home of the Acropolis, birthplace of Democracy as well as hosting the 2004 Olympic Games (the original Olympics being born from Greece, not necessarily in Athens though).
Why am I here?
Because I love it.
Yes, it's polluted, noisy and the cacophony of car horns and people shouting can assault your senses at times, but I love it here, I really do.
Despite being a big city, you can leave your flat and bid a 'Kalimera' to people on the street.
Your local periptero (kiosk) can play you music
and people on the trolley buses chat to each other – especially the older people.
I mention the Acropolis:  well, there is a GREAT hotel, ironically called A for Athens that overlooks the Parthenon and has a fantastic view from its rooftop bar.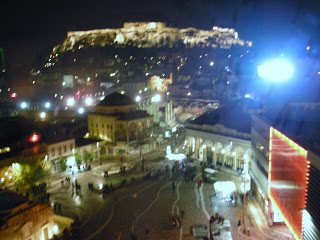 View from rooftop bar of A for Athens cocktail bar
People moan about Athens in the summertime – personally I love it.  Yes, I love escaping to the islands, but from about May time, the Open Air Cinemas come alive…those civilised ways of watching a movie – either on the rooftop of a building with comfy couches, or in the shadows of the Acropolis.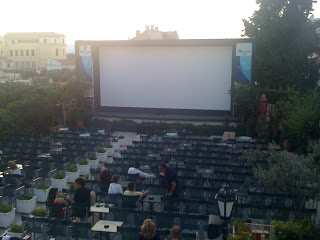 Cine Paris Open Air cinema
Don't write Athens off, people.  I'm aware she has had a lot of bad press recently.  You know, it's like assuming in the 1980's people in Belfast were constantly dodging bombs.  No, Athenians are NOT constantly dodging teargas or Molotov's.  So what have you got to loose?  Come and pay this beautiful country and city a visit.