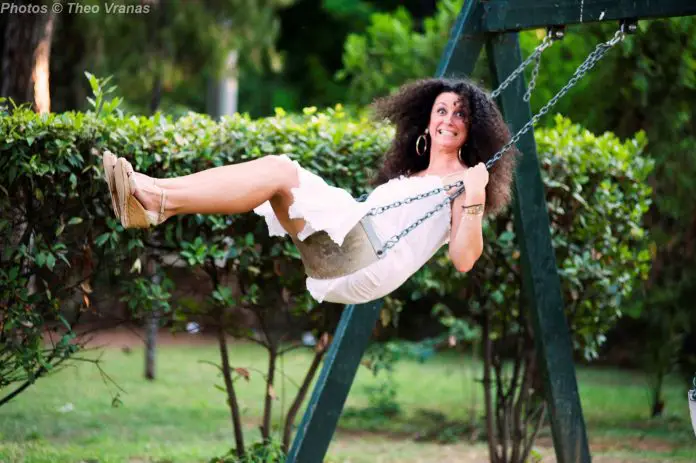 Artlinks is a brand new concept born from the creators of Serendipity Magazine. Based in Athens Greece, this 'celebration of all things artistic' is one of a kind and hopes to be run on an annual basis. From artists displaying their creative works to music, dance and photography workshops, fashions shows to book launches and author (one internationally renowned!) readings, the key element linking all these artists is that they have Greece at their heart; either through heritage or their passion for this beautiful country.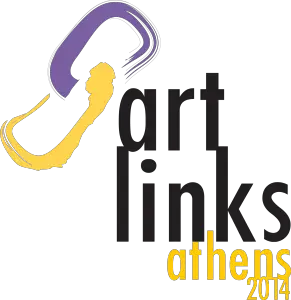 This naturally piqued my interest! Therefore I am honoured to interview many of the 'artists' and performers to get the lowdown on what Artlinks means to them.
We start with Katerina Vrana—performing at Artlinks on Saturday 18th October 2014 at 21:00.  Her show will be in English, and a Greek showing on Tuesday 21st October.
---
Katerina was born and raised in Greece, is based in London and does stand-up comedy in both Greek and English, sometimes simultaneously.
She has been a Funny Women Finalist and TEDx performer and has appeared on BBC1, BBC World, BBC Radio 4, Radio 5 Live, has gigged in the UK, Greece, Australia and the States.  She is one of the founders of Angel Comedy, one of London's most successful comedy clubs. She also started Greece's first ever open mic night "5 Mins of Glory".
CNN included her in its list of Female Comedians to Watch on The Fringe 2013 alongside names like Bridget Christie, Janeanne Garofalo and Sarah Millican.
Following the success of her show "Feta With The Queen" in Edinburgh 2013, Katerina was invited to host an evening in the Southbank Centre in October 2013 celebrating Greek culture called "Katerina's Krisis Kabaret" as part of "Greece is The Word" which sold out and was acclaimed as a huge success.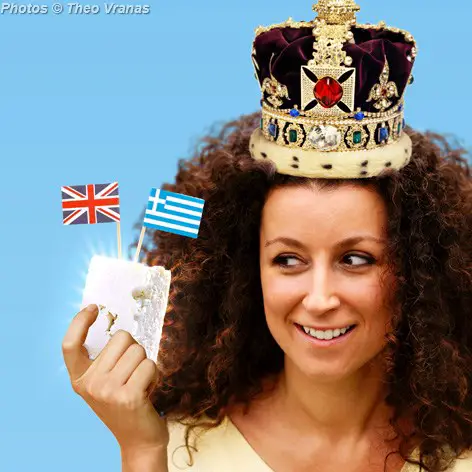 She has spent most of 2014 touring with "Feta With The Queen" and writing her next show. [Bio taken from Katerina's website].
Katerina, you're an Athenite by birth. You now live in London. Did you study there and decide to stay, or what was your reason for locating yourself in London (my home town—ironic that we've swapped cities!)
I went over to the UK to study and stayed.
I went to Royal Holloway just outside London, in Egham. It's a tiny village the size of a postage stamp so after I finished studying I moved to London, 32 minutes away by train. Yay big city time!!!
How difficult was it to adjust to the London life—did it suite you down to the ground immediately, or were there difficulties (i.e.: weather!)
My biggest difficulty was and remains the taps.
I go into this in depth in my show, so I won't elaborate here, but ohmygoooood I HATE THE SEPARATE TAPS. HATE. THEM. [Hahahah!  I hear so many Greeks – and Europeans – make the same observation!]
Other than that, I didn't have much difficulty adjusting. Ooo wait, the early hours of eating and drinking establishments took a while to get used to. Not being able to sit down for a meal at 10.45pm or go for a quiet drink at 1am. That was a bit hard to get used to. [I hear you, and I'm British!]
And the lack of good souvlaki with pitta which I believe is being remedied as we speak.
The weather never bothered me.
As a Greek comedian on an international circuit, what challenges did you face? What made you decide on this career choice?
I don't think I face any challenges that have to do with being a Greek comedian, specifically. Doing stand-up comedy is challenging on its own and it has a particular set of difficulties that are possibly unique to the job. What I'm trying to say is that stand-up can be pretty tough and me being Greek has not caused extra adversity. If anything, being Greek has possibly helped me rather than hindered me.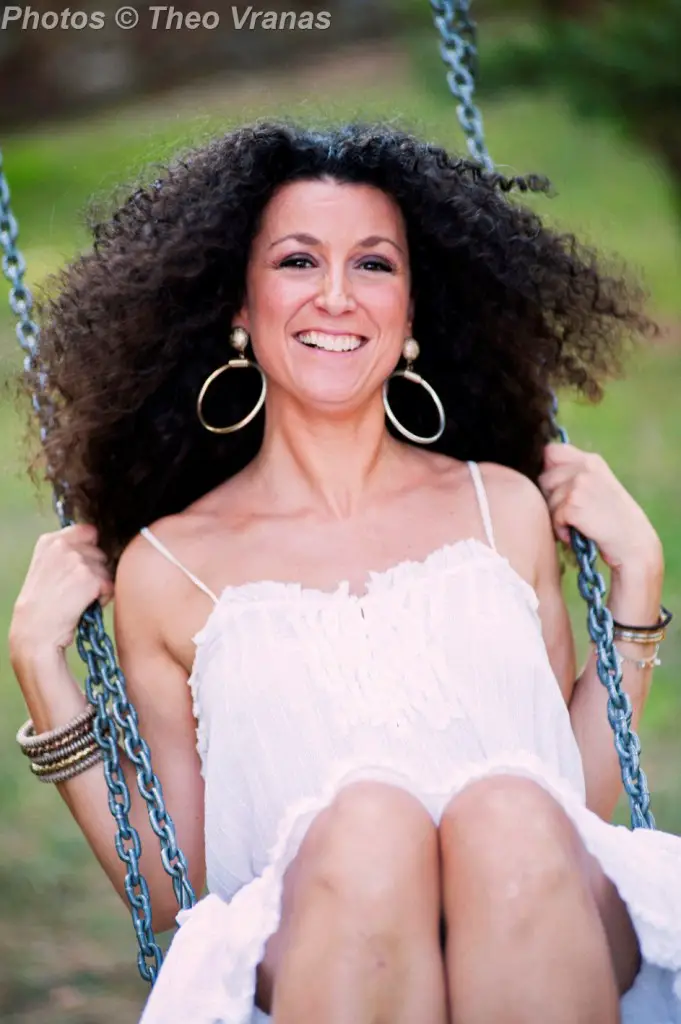 Going into stand-up was a natural progression for me. I studied Theatre and Drama then started working as an actress. While doing this, I took some comedy improvisation classes as a way to get my mind working faster in English and then ended up performing with a couple of comedy improvisation groups. From there, I got into sketch comedy and formed a group with two other girls and did that for three-four years and then it was a very natural step into stand-up.
Is it easier being a comedian in one country more than another, for example—is it more 'recognised' in the UK and U.S. than in Greece?
Of course. Stand-up  is everywhere in the UK.  Everyone has seen it, if not live then on TV, they know what it is, nearly everyone has a favourite comedian and I would say that almost everyone can name at least one comedian off the top of their head, regardless of whether they like them or not.
In Greece, it's nearly completely unknown.
There is very little awareness of what stand-up is. First of all, not many people know the term "Stand-up comedy" and even if they do, so many types of performance that have nothing to do with stand-up get billed under "stand-up" that even people who have heard of it, have no idea what it really, actually is.
Having said this, in the UK the market is oversaturated whereas in Greece it's a very exciting time to be doing stand-up. Both comedians and audience are ready for this renaissance that Greek stand-up is going through right now. Especially with YouTube, people have such easy access to so much international comedy that I think there is beginning to be a demand for good Greek stand-up comedy.
I love living in Greece, mainly because of the people and their humanity. What differences do you notice living in London compared to Athens?
That's what a lot of my show is about. So I don't want to give too much away [ohhh, now I really AM interested!]
I've never seen a comedian before (I've always been too scared I'll get picked on!) What can we expect from your Artlinks performance?
I don't pick on anyone, in fact few of us do.
Comedians have painstakingly crafted material that took them AGES to get to the level it is and all they really want to do is present this to the audience and hope the audience likes it. (In fact, we prefer if the audience loves it.) We're usually happy to interact if someone says something to us, but mostly we just want to show you this amazing thing that took us HOURS to put together and will take us about 5 mins to tell you.
So I'll be mainly talking about my experiences as a Greek living abroad. But in a way more entertaining way that I just made it sound. It's funny. Really. I promise.
Hello?
Thanks for taking the time Katerina. I look forward to seeing you at Artlinks—the first event of its kind in Athens (and hopefully not the last).
I. CAN'T .WAIT!!!! And thank YOU for the interview.
Artlinks runs from 17th to 22nd October 2014 at The Hub, Athens.  Look out for more exciting interviews here with performers and artists.