Yes, odd one this.
"You're coming with me tonight" intoned my friend.  "I haven't seen you for 2 weeks, we've been holed up working and then this flu thing – and besides, they're from your homeland, your era and it's only 14EUROS, so YOU ARE COMING WITH ME!!!"
It seemed I was going with my friend, she's not easy to say "no" to.  Still, sometimes it's nice to be swept along by a tidal wave at times (how I refer to my friend's personality).  And she was right, I had been holed up recently, fluey and 14 Euros wasn't expensive.
"14 Euros for what?" I hear you ask.  For a concert by Inspiral Carpets.  Now my friend was correct, they hailed from my homeland – the UK and yes, were roughly my era.  Still, I didn't really follow them, but at 14 Euros I wasn't complaining.
My first reminder why I love Greece was an incident on the metro:
3 young teenage girls board, sit down and one puts her feet on the chair opposite.
The old lady next to her pats her knee, smiles at her whilst politely asking her to move her legs – which the girl does, without so much as an eye role!!!  In fact, she even "Signomi"'s the old lady (says "Excuse me")!!!!!  I am left smiling to myself and comparing this to the louts in the UK.
The venue near Gazi wasn't packed, and I noticed some pretty hot St.Johns Ambulance type First Aiders in red boiler suits at the entrance.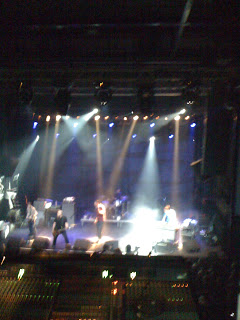 "You're not here to look at them" my friend pulled me along up to the balcony, where it was decidedly quieter and had a much better view.
So finally these 40 something males come onto stage.  They try to engage their audience:
"So, yeah right – we went to the fooking Acropolis today right.  Fooking amazing yeah?"
The woman standing next to me (oddly in a beanie hat inside a very warm building) looks at them quizzically and mumbles in Greek "Oxi Katalaven" ("I don't understand!")
A quick glance around confirms that half the top floor actually don't understand them.  Hmmmm, maybe they should just get on with playing the songs.
I helpfully turn to her: "Kata leven Anglikka?" I enquire (excuse my appauling Greek spelling, I never pretended I could spell Greek).
"Nai!" she beams at me, "Poli ligo" (a little).  So I proceed to explain to her that he seemed to like the Acropolis (not finding it necessary to add the "fooking"). 
"Where is this man from?  He speaks the English no good – but you, you are perfect!" she pinches my cheek. 
I smile and explain I think they're from Manchester and that he swears a bit too much anyway for my liking.
"His songs are good, but his speaking?  Pah!" lady next to me swipes her hand in a gesture designed to show me just exactly what she considers their English Language skills to be like.
In fact, it was an interesting evening for me from a sociological and anthropological context:
Looking at these 40 something blokes on stage, I am reminded just how British they look: pasty, beer guts and swearing every other word.
I look around my balcony with my friend: I would say I aesthetically find pleasing 80% of the blokes there, even the 'ugly' ones.  Beer guts?  No!  Swearing? Only the odd 'Malaka' – but maybe I prefer Greek swearing to English.  Ominous threat of violence from testosterone fuelled men after too much beer?  Not on your nelly!
In fact, afterwards most of the venue trooped to the nearest gyros place (yes, open at 12am) for chicken gyros and coca-cola. 
WHAT a civilised way to spend an evening.