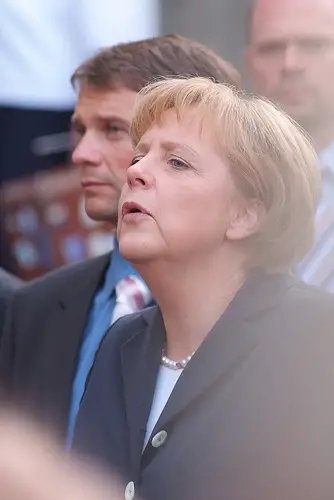 As you all know by now, I am an expat living here in the lovely country of Greece…and I continue to sing Greece's praises and see positive through the negative, despite her issues.  Often I am left feeling frustrated by the inefficiency of, say the Public Sector and have written various articles on my blog…one such article can be read here, about the Tax Office. You'll note an element of humour even in this article.
Today, however, I have been pushed to my limit.  What has put me onto my soap box (justifiable so)?  The visit of THAT woman, Angela Merkel.  Why?  Well, the security operations in place are ludicrous, I mean ludicrous.
I set off for work this morning an hour and a half early because I envisage there'll be problems.  Normally I walk to a point (about 25 minutes) where I meet a fellow teacher and we drive together to work.  Then I take the school bus back from work which drops me near my house…and I get public transport the rest of the way.
OK, no public transport today, they're on strike from 11am – 4pm (the time I come home).  Never mind, I am (stupidly?) prepared to walk home from where the bus drops me if needs be.
Ha!  All the streets are closed in the area – Athens has literally come to a standstill, and I mean literally.  Do not think it is an exaggeration…hence I couldn't get to work.  I tried a taxi, all the streets were closed, so I couldn't get to meet my fellow colleague (I had to meet her at a different place today because she, too, had problems).
The taxi driver's advice?  "Go home, Kirya."  So I have come home after approximately 2 hours of trying to get to my rendezvous point with the other teacher.
I have a new teaching job, I am concerned they'll be p*ssed at me and fire me (although to be fair, at least another 2 fellow colleagues all had the same problem).
The irony?  They want us to pay our taxes, she wants us to pay our taxes.  I wonder how much lost revenue has occurred today because of this woman's visit.  I only get paid for the days I work, hence I will loose out today…and the further irony?  It's the taxpayer who has to fund the extra police presence today, which the Guardian comments as "being unprecedented".
Do I have a choice that my non-earnings today will be taxed to help pay for this?  No, I didn't think so.  Can I bill her for my loss of earnings?  Ha!  Thought not.
What is the point of her visit, to rub further salt into the wounds of the average person?  To stand there with her trademark smirk ("Smerkel!!!") whilst she looks down at the people, sees them demonstrating and says to her country:
"You see?  What a bunch of barbarians the Greeks are.  Why should we help them?"
I'm sorry everyone – I like to keep upbeat most of the time, but today I am enraged, I really am.
Anyone else have problems today?
*